This Spicy Shrimp over Creamy Spinach Cauliflower Rice is a easy and quick meal which comes in 10 minutes! It's packed with full of flavors, gluten-free, paleo, dairy-free and whole30.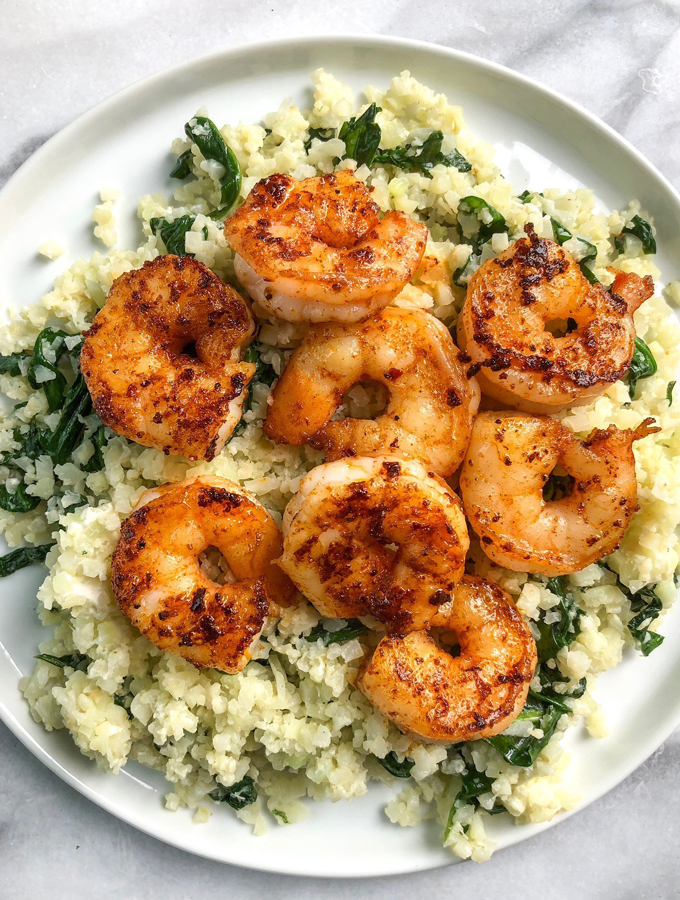 This is among my go-to simple meals using frozen shrimp & cauliflower-rice from my fridge! Great for those times once I do not actually have a dinner-plan and want something fast and simple
I utilize "Kite Hill almond milk cream cheese" to provide this dish the creaminess factor, but it's optional. Personally, I let nut-cheeses when I'm doing a Whole30 (in moderation) and that I definitely permit it throughout my food liberty.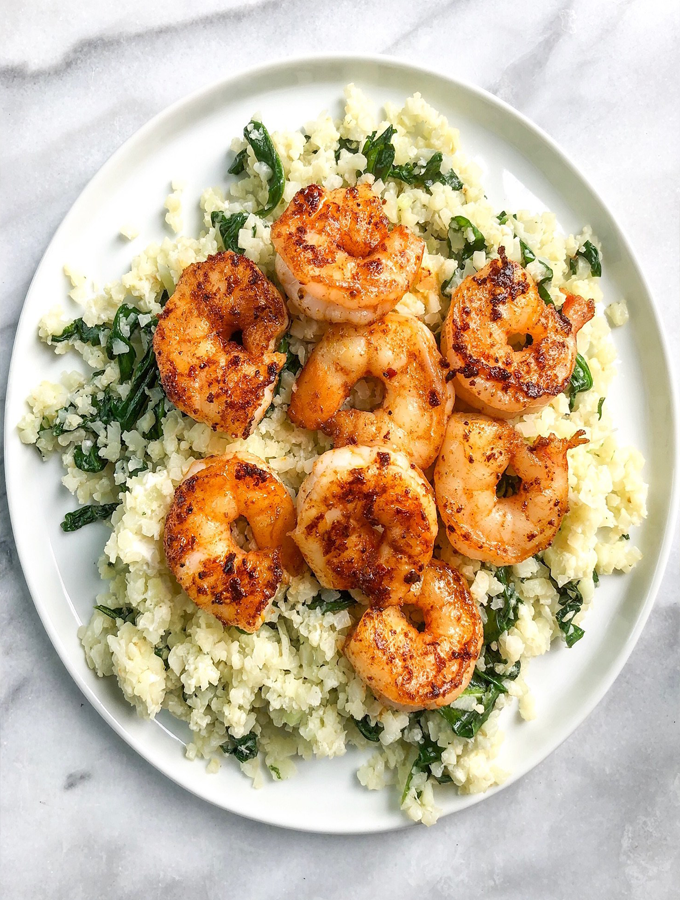 I believe I eat this stuff over anything else! It is wonderful. And you'll be able to find it in many grocery stores and this is "Melissa Hartwig's" take on nut-cheeses throughout the whole30.
Nut cheeses and dips are compliant on the program, using a strong caution that these ought to be employed with care, especially in the event that you know you rely on cheese for a relaxation or stress-relieving meals, or if cheese is a cause for additional food-cravings (such as wine or breads ).
Much like almond butter or Larabars, whole30 and our trainers recommend that program participants use caution, and think seriously about whether add these foods in their own Whole30 is a healthful option, given their own contexts and targets.
I hope you enjoy and thanks a lot for reading. Want to browse all of my recipe posts? Follow my Pinterest.
If you love this Spicy Shrimp Over Creamy Spinach Cauliflower Rice Recipe as much as I do, make sure to give it a 5 STAR REVIEW in the comments below! Thanks.
Try other Delicious Recipes options: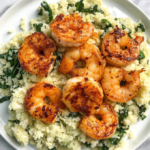 Print Recipe
Spicy Shrimp Over Creamy Spinach Cauliflower Rice
Simple and quick meal that's packed with full of flavour! Spicy ghee-fried shrimp more creamy, cheesy cauliflower rice mix with spinach. It comes in 10 minutes or less!
Ingredients
1

lb

frozen-shrimp (peeled and deveined, and thawed)

2

handfuls fresh-spinach

1 16

oz

package frozen-cauliflower-rice

pinch-pepper

1

tbsp

ghee

1

tbsp

Kite Hill Foods Chive Almond Milk Cream Cheese

1

tsp

paprika

1

tsp

garlic-powder

1

tsp

olive-oil

½

tsp

sea-salt

½

tsp

crushed red-pepper-flakes reduce for less heat
Instructions
For the shrimp, heat a large-saute-pan + ghee over moderate heat. Add shrimp, paprika, red pepper flakes, ½ tsp garlic powder, pepper and ¼ tsp sea-salt.

Cook the shrimp for 2 minutes each side or till cooked through and no more opaque.

Meanwhile, heat another pan with the olive-oil over moderate high heat. Add caulirice cook for 5-7minutes till softened.

Add staying ½ tsp garlic powder, pinch of pepper and ¼ tsp salt.

Add spinach stir for a few minutes till wilted and then stir in the cream cheese till melted. Serve shrimp on top of this caulirice/spinach mix and then enjoy it!
PIN IT FOR LATER!