We are enjoying this recipe for Healthy Chicken Shawarma Quinoa Bowls using a super simple hack for make-ahead lunches. This is super easy and healthy and you will love it!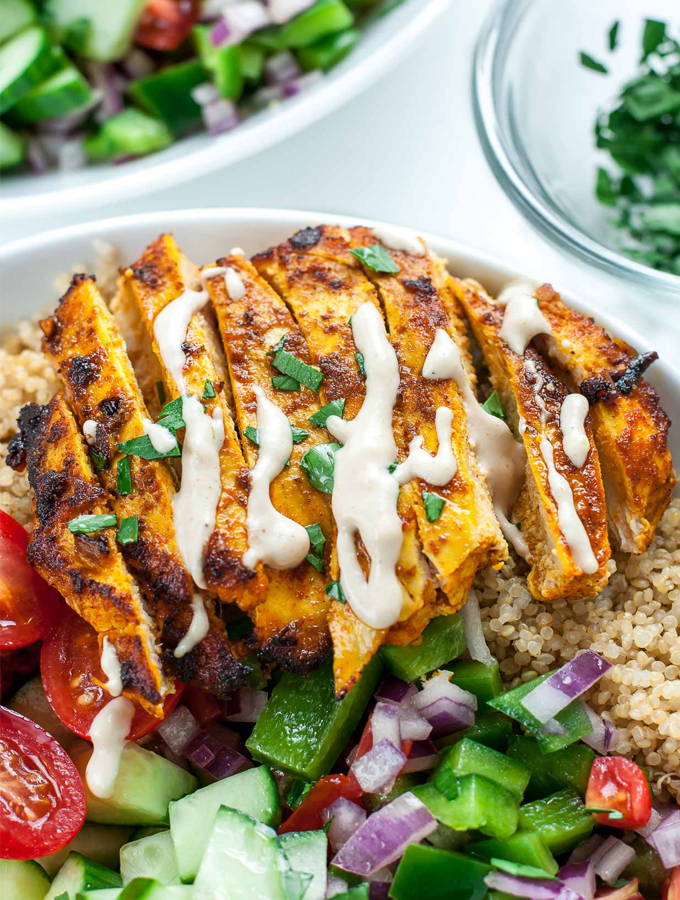 Tender, succulent chicken spiced to perfection and tossed with fluffy quinoa, creamy tahini sauce, fresh veggies and warm naan for a tasty dairy-free dish that is guaranteed to your taste.
The recipe below was motivated by Hummus at Pensacola, FL, a Plated dish we tried a number of months ago. The end result was a plate-licking dish which creates a phenomenal 30-40 minutes dinner plus a wonderful make-ahead lunch!
I've been eating it cold for lunch and it's delicious. The seasoning in the recipe is absolutely perfect. I might add more cayenne next time since I love spice!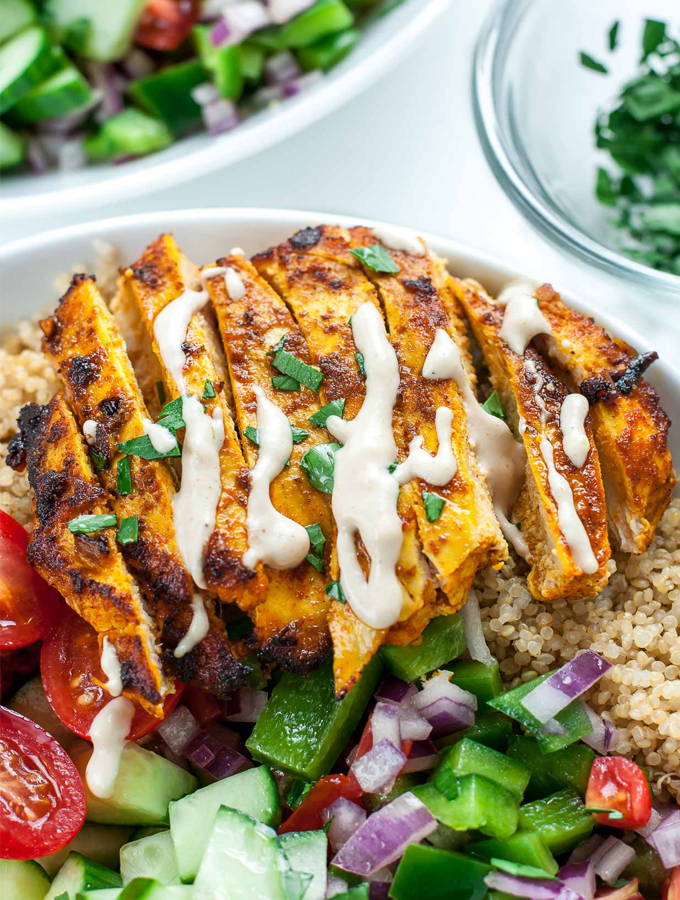 You can make double the recipe next time so there will be enough to split up and share with my boyfriend so he can bring it to work too. I'll see how doubling it goes.
Everything could be piled into a container salad-style (tahini sauce & naan on the side) then enjoyed cold if chilled-chicken-salad is the thing.
Or you'll be able to follow my example under and package the chicken into a heat-safe bowl and toss the quinoa and veg in its container. Only warm up the chicken, then throw in addition to your salad and dip in with a side of tahini and naan.
I have been performing the hot-chicken-cold-salad item for lunches this week and I love it! In addition, I stick the naan from the microwave for a couple of seconds to heat it up and then use it to scoop out all of the shawarma bowl goodness into my head.
I hope you enjoy and thanks a lot for reading. Want to browse all of my recipe posts? Follow my Pinterest.
If you love this Healthy Chicken Shawarma Quinoa Bowls Recipe as much as I do, make sure to give it a 5 STAR REVIEW in the comments below! Thanks.
Try other Delicious Recipes options: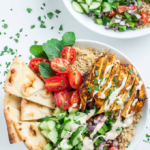 Print Recipe
Healthy Chicken Shawarma Quinoa Bowls
Healthy Chicken Shawarma Quinoa Bowls using a super simple hack for make-ahead lunches. This is super easy and healthy and you will love it!
Ingredients
2

chicken-breasts boneless/skinless

2

naan flatbreads toasted or warmed slightly

1

clove garlic smashed and minced

1

cup

dry-quinoa

2

tbsp

extra virgin olive-oil divided

juice of ½ a lemon

1½

cups

water

1

tsp

ground-cumin

½

tsp

smoked-paprika

⅛

tsp

cayenne-pepper

¼

tsp

ground-turmeric
For the Veggies
½

English-cucumber

1

cup

grape-tomatoes

1-2

tbsp

fresh-chopped-parsley

juice of 1 lemon

¼

small red-onion

2

tbsp

olive-oil

½ – ¾

bell-pepper red or green
For the Tahini Sauce
⅛

tsp

black-pepper

3

tbsp

warm-water

⅛

tsp

paprika

juice of ½ a lemon

¼

cup

tahini

1

clove garlic smashed and minced

⅛

tsp

salt
Instructions
First wash and drain quinoa employing a mesh strainer or sieve. Bring a medium-saucepan to medium-heat & lightly toast the quinoa to get rid of any excess water. Stir as it toasts to get only a couple of minutes.

This step is optional but actually increases the nuttiness and fluff variable of this quinoa! Next add your own water, put burner to high & bring to a boil. After boiling, reduce heat to low & simmer. Covered with the lid slightly ajar for 12-13minutes or till the liquid was absorbed & quinoa is fluffy.

While the quinoa cooks, prep your veggies! Slice onion, cucumber, parsley and bell pepper. Mince your garlic & slice grape-tomatoes in half.

Pat chicken dry with paper-towel, then put a dry-paper-towel on top. With a meat mallet or heavy-pan, pound into 1⁄4-inch thickness.

In a large shallow-bowl or resealable plastic-bag, combine turmeric, cumin, cayenne-pepper, paprika and with juice of 1⁄2 lemon, minced garlic and 1 tbsp olive-oil. Add chicken and coat with the spices. Put aside to marinate at room-temperature for 10 or more minutes.

Snag your own fluffy quinoa in the pot and then give it a small fluff with a fork. Season with pepper and salt, to taste. Put aside.

Remove chicken from marinade and season both sides with 1⁄2 teaspoon black-pepper and salt as desired. Heat 1 tbsp olive-oil from naan over moderate heat. When oil is shimmering, add chicken.

Cook till chicken is cooked through (165°F) for 3-4minutes each side. Transfer chicken to a plate and let it rest while you prep your quinoa bowls.

Combine tomatoes, onion, cucumber, parsley and bell-pepper in a bowl then dress with juice of lemon juice & 2 tbsp olive-oil. Season if desired.

For those tahini-sauce, whisk together tahini, lemon-juice and minced garlic. Gradually add warm-water, whisking well till saucy & thin. Season with paprika, pepper and salt.

Slice your chicken into thin pieces or dip into bite-sized pieces.

Now let's toss it ! You are able to dish the chicken & veggies on top as envisioned above or throw the quinoa with all the veggies for goodness in every bite! Dress with tahini sauce and dig.
PIN IT FOR LATER!