Brown Butter Scallops with Parmesan Risotto this so Delicious and so Fancy! Perfect for the yummy meal! This seems just like a fancy restaurant supper unites the love that's a heap of creamy Parmesan risotto (with a dash of white wine bcz that can be a fancy restaurant, so remember?) And seared scallops, garlic sautéed greens, then like we weren't enough, the peanut butter becomes drizzled up on top of everything. Only so it's possible to go to paradise and back in 1 bite.
Two of my most favourite things about this recipe would be the procedure or even better known as an adventureof searing the scallops along with the slow portion of this risotto.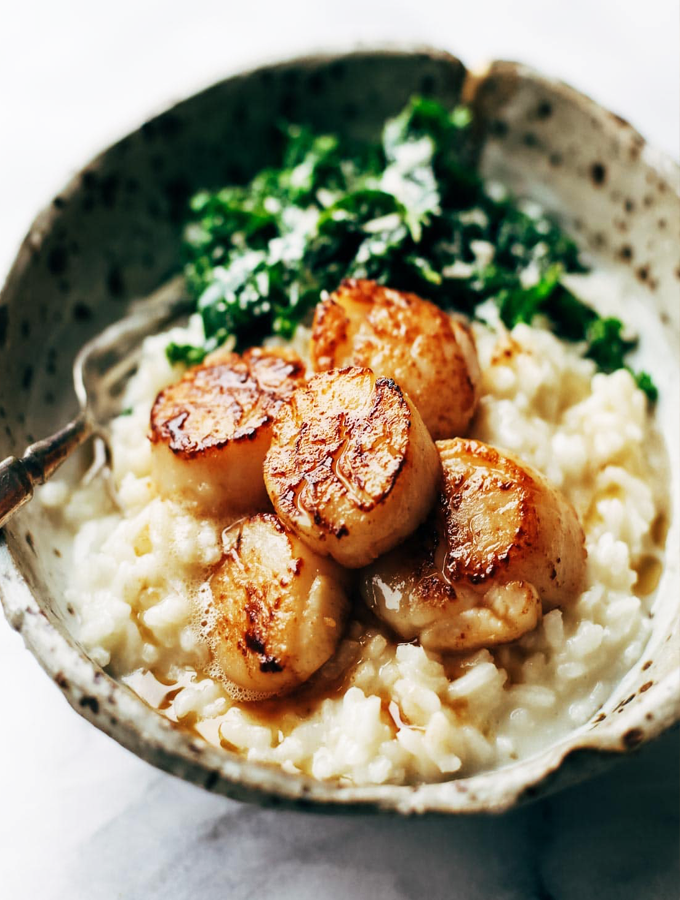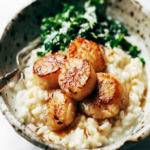 Print Recipe
Brown Butter Scallops with Parmesan Risotto
Brown Butter Scallops with Parmesan Risotto this so Delicious and so Fancy! Perfect for the yummy meal!
Ingredients
Parmesan Risotto
3

cups

chicken broth

½

cup

parmesan-cheese

1

minced clove garlic or 1 minced shallot

1

tbsp

butter

½

cup

white-wine

1

cup

arborio-rice
Seared Scallops
1

lb

jumbo-scallops

1

tbsp

grapeseed-oil
Sauteed Spinach or Kale
4

cups

spinach or kale

1

clove

minced garlic

1

tbsp

olive-oil
Instructions
For the Risotto: At a large skillet over moderate heat, melt the butter. Insert the garlic or shallots and simmer for a few minutes until fragrant and tender. Add the arborio-rice, stir to coat with butter. Add the white-wine & revel in the sizzles. Add the broth, 1/2 cup at a time, also simmer/stir after each addition till the rice is creamy and soft. I normally err on the side of liquid to acquire a creamier texture. Add the parmesan & stir until incorporated. Pepper and Salt to taste.

For Your Seared Scallops: Heat oil in non-stick skillet. Pat scallops dry (very dry as you can ), sprinkle with salt & add to pan. They ought to sizzle (or even, you want a milder pan) Shake gently to prevent sticking. After 2-3minutes, then flip each scallop over. They ought to have a fairly golden-brown exterior along with an opaque interior. Transfer to a paper-towel lined plate to absorb extra-oil. Serve immediately.

For your Sauteed Spinach: Heat the oil over moderate heat. Add the garlic, stir for a minute to have the taste moving. Add the spinach or kale & stir fry until wilted.

For your Brown Butter: Place a few tbsp of butter in a skillet over moderate heat and stir it while watching it carefully, when it begins to appear gold and simmer. Remove from heat, transfer to a heat-proof bowl to cool slightly, then drizzle over the risotto, scallops, and greens.