Korean Beef Bowl – easy, healthful meals are essential in our house. Already in just the first few weeks of Fall it is like our programs are on overdrive! This Paleo + Whole30 Korean beef bowl is really on the desk in under half an hour and is a dinner that is refrigerated. This Korean beef bowl is both fermented and dairy-free, and the leftovers make good lunches, also!
We adore cooking and spending some time in the kitchen but we love having dinner prepared in under thirty minutes! I mean, that does not?! Justin is training a boy's flag football team this Fall and I am heading back into teaching barre courses, so 3 evenings from this week will entail actions that require us away from our property. As soon as it's entertaining, it can also be exhausting a few months and also makes getting dinner on the table fast a priority! This Korean meat bowl is excellent as you probably have all of the ingredients available or will just have to catch a couple things at the shop, and you will get it prepared to go in about 25 minutes!
GRASS-FED GROUND BEEF
We love cooking using grass-fed ground beef mainly because it's simple and it always tastes fantastic! Additionally, it is very flexible. You may make something similar to that Korean beef bowl or you'll be able to create patties/burgers or meatballs, etc.. After that, switch the batter, sauces and veggies, and it will take on a different flavor every time! What are some of the favourite ways to cook ground beef?
MAKE IT A BOWL
Have you ever captured onto my favourite way to consume however?? Bowl meals! I used to enjoy all my food different when I was younger, like nothing else touching anything else. I would eat every thing individually. Nowadays, I really like making bowl dishes and mixing up everything so I get a bit of all of the flavors in each bite! It is much more satisfying, not to mention my favourite way to top a bowl would be using a tasty sauce. The sauce with this particular bowl is discretionary, however I highly suggest adding it! It is only two ingredients and extra yummy!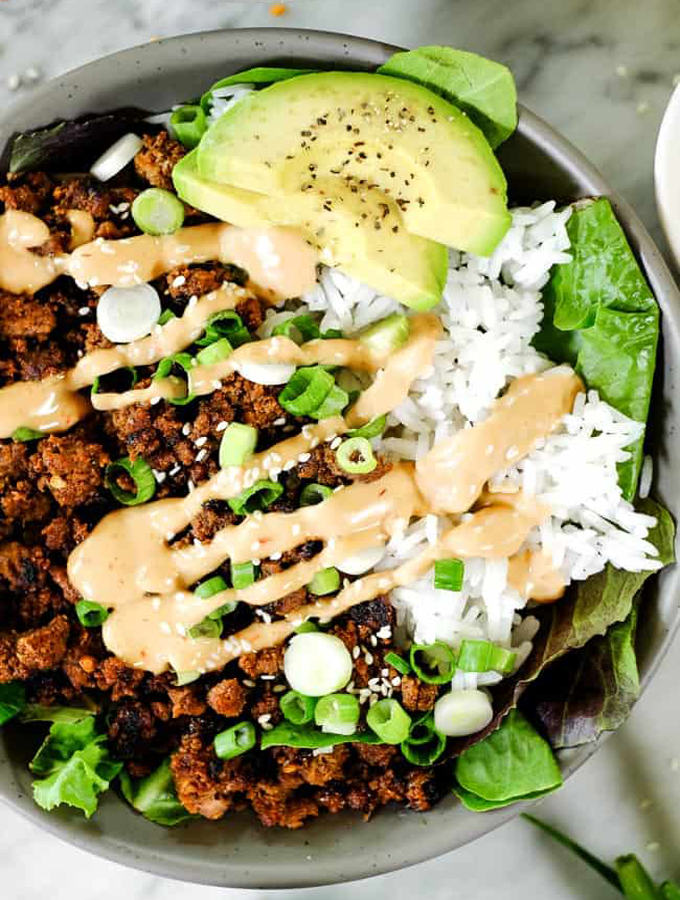 Korean Beef Bowl (Paleo + Whole30)
This Paleo + Whole30 Korean beef bowl is prepared in under half an hour and can be a family-friendly meal! It is gluten-free, dairy-free, also makes good leftovers!
Ingredients
6

cups

reens of choice (chopped romaine, arugula, spinach)

4

cups

cauliflower-rice (can sub white rice if you're not doing Whole30)

2

inches

fresh-ginger, peeled and grated on a microplane

1

tsp

red-pepper flakes

2

lbs

grass-fed ground-beef

2

tbsp

toasted sesame-oil

1

tsp

garlic-powder

1

tsp

onion-powder

1

shallot, diced

2

tbsp

fish-sauce

½

cup

coconut-aminos

½

tsp

salt
Optional Sauce
1

tbsp

hot-sauce

¼

cup

mayo
Instructions
Begin with preparing rice to have it prepared. If functioning with cauliflower-rice, then wait till the beef is all but done because it only requires a couple of minutes to cook.

Dice shallot & grate ginger to have it prepared.

Heat a large-skillet medium-high warmth and add sesame-oil. Once hot, put ground-beef. Split up the beef into small bits.

Add the shallot, ginger, red-pepper, garlic-powder, coriander-powder & salt then combine together with the beef. Keep on cooking, stirring occasionally, until the beef is browned & creating some crispy pieces, about 8 mins.

Add the coconut-aminos & fish-sauce and cook for an additional 3-4 mins.

If you're making the discretionary sauce, then combine the mayo & hot sauce in a small-bowl.

Serve beef in a bowl over a bed of greens with rice or cauliflower-rice. Top with discretionary sauce and revel in.