Chicken Quesadillas Fajita Style – delicious Quesadilla recipe! These are packed with just two types of sweet melted cheese and a tasty, fajita style chicken and sauteed pepper filling. Discuss tasty Mexican comfort food everyone will go mad.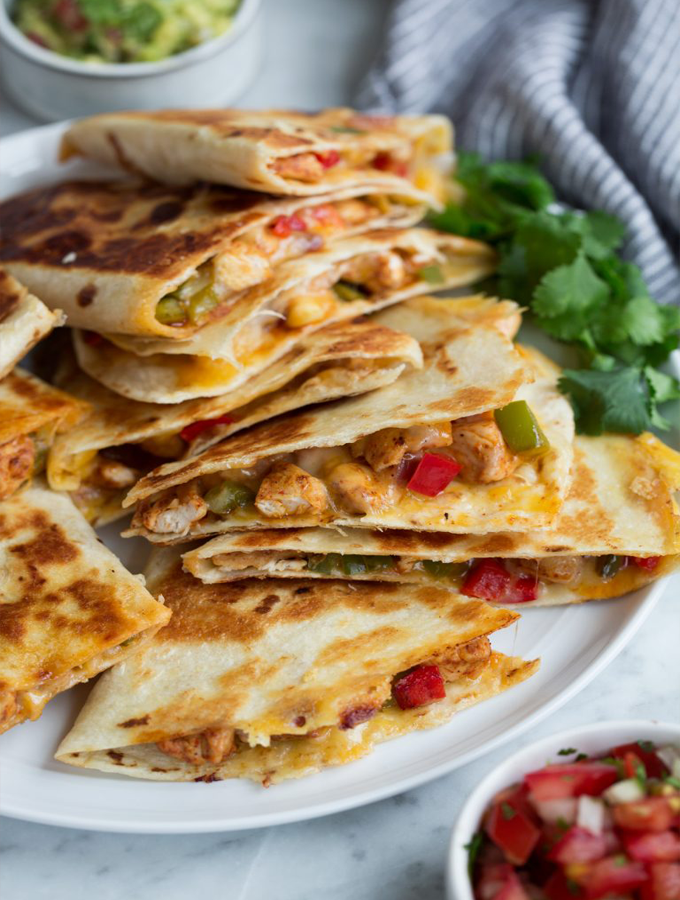 When I had to select 1 form of cuisine to eat for the remainder of my life it'd most likely must be Mexican meals. I mean would we ever eliminate this refreshing, zesty, deliciously seasoned flavor?
And quesadillas, who does not need to stay on these? Every time a simple, humble tortilla is strung generously with cheese at the middle and then pan roasted with butter into a crispy golden brown outside that you get something really gratifying out of only three easy components.
Then once you would like to bring it to next degree taste, you material it not just with cheese with sauteed sweet peppers, celery, garlic and onions along with a veteran, tender chicken also. And today we are talking finest quesadilla ever.
Please, if you recreate this Chicken Quesadillas Fajita Style Recipe, don't forget to give me STAR RATE (★★★★★) or comment below. Thanks!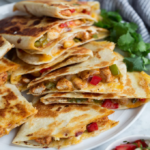 Print Recipe
Chicken Quesadillas Fajita Style
Delicious Quesadilla recipe! These are packed with just two types of sweet melted cheese and a tasty, fajita style chicken and sauteed pepper filling.
Ingredients
1¼

lbs

boneless skinless chicken breasts, diced into ½" cubes

2

garlic cloves, minced

4

tsp

olive-oil, divided

6

oz

monterrey-jack cheese, shredded

2

cups

chopped bell-pepper

⅔

cup

chopped red-onion

1

tbsp

fresh lime-juice

2

tsp

chili-powder

6

flour tortillas (10" burrito size)

3

tbsp

butter, melted

1

tsp

ground-cumin

6

oz

cheddar-cheese, shredded

salt and freshly-ground black-pepper

guacamole, sour-cream, pico de gallo or salsa, for serving (Optional)
Instructions
Toss chicken with chili-powder, cumin, pepper and salt (about ¾ tsp salt and ½ tsp pepper).

Heat 2 teaspoon olive-oil in 12" nonstick skillet over medium-high heat. Add chicken & cook then turn occasionally until completely cooked through, about 6minutes. Transfer to a medium mixing-bowl.

Heat remaining 2 teaspoon oil in same skillet. Add bell-pepper, red-onion and simmer until tender about 6minutes. While incorporating in garlic throughout last a minute. Transfer to bowl with chicken, pour in lime & toss.

Brush top side of tortillas with melted butter. Wipe skillet clean with paper-towels, heat over moderate heat. Toss sweet together.

Transfer one tortilla down side to skillet. Working fast scatter ½ cup cheese evenly over a half of the tortilla then sprinkle with roughly ¾ cup of the chicken mixture. Twist top over, repeat with another tortilla.

Let cook until golden-brown on underside about two minutes, then carefully turn to reverse side and then continue to cook till golden-brown on underside.

Repeat procedure with remaining tortillas, cheese and filling. Cut each quesadilla into two or three wedges. Serve warm with desired toppings.
Try these Delicious Recipes options: