Chicken Cordon Bleu Casserole is also a simple chicken recipe for a busy weeknight meal. This simple casserole combines all of your favorite flavors of chicken, ham & swiss-cheese making it quick to prepare. This utilizes a rotisserie chicken however, you might also use leftover chicken too!
I'm always on the search for leftover chicken recipes if you prefer use a rotisserie chicken, then don't hesitate to utilize any other sort of chicken, but you should be certain it's well experienced once you cook it. I simply can not pass up those tasty $5 rotisseries in Sam's Club once I'm in a hurry. Convenience is well worth it occasionally!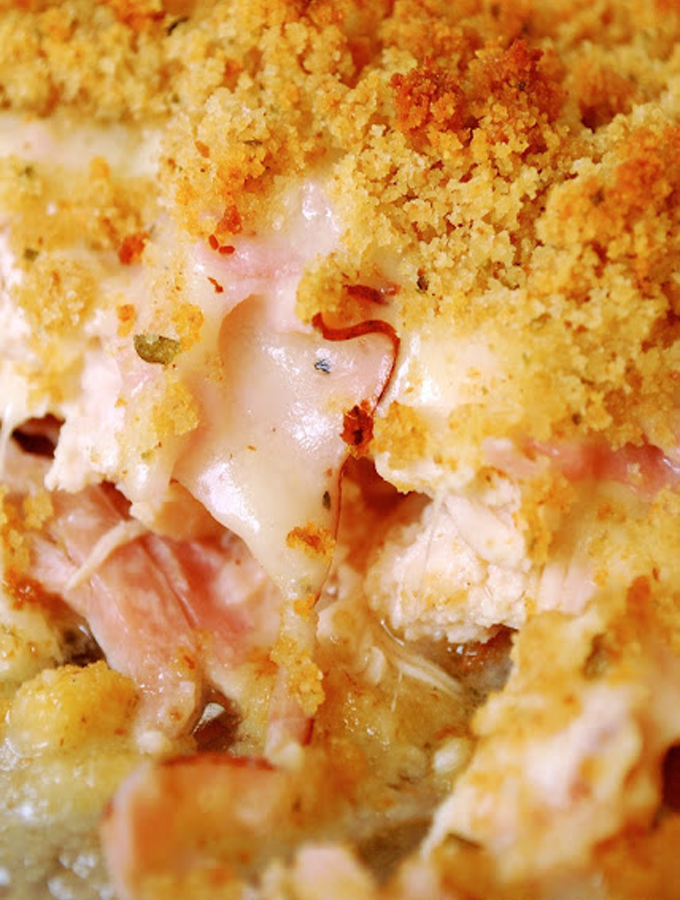 CHICKEN CORDON BLEU CASSEROLE
Chicken Cordon Bleu Casserole makes for a tasty, easy dinner recipe for a busy night. Super child friendly chicken casserole recipe.
Ingredients
Base
1

large

rotisserie-chicken, meat removed and pulled (about 5-6 c.)

½

lb

sliced deli-style black-forest ham, chopped

½

lb

sliced swiss-cheese
Sauce
3

c

milk

4

tbsp

butter

4

tbsp

flour

1

tbsp

dijion-mustard

2

tbsp

lemon-juice

½

tsp

smoked-paprika

1½

tsp

salt

½

tsp

pepper
Topping
¼

c

parmesan-cheese

1¼

c

seasoned bread-crumbs

4

tbsp

melted-butter
Instructions
Preheat oven to 350°F & spray a 9×13 casserole dish with non-stick spray. Layer the chicken at the bottom of the dish followed with the ham & eventually the swiss-cheese.

In a medium saucepan, melt butter over moderate heat. Whisk in the flour and cook a minute. Gradually add the milk, whisking to maintain clumps from forming. Turn the heat to high & cook until the sauce thickens and stems completely, whisking frequently. Remove from the heat & then add the sauce ingredients. Pour the final sauce on the bottom layer in the dish.

In a small-bowl, mix together the topping ingredients till the butter is evenly dispersed over the grinds. Sprinkle on the surface of the dish and bake for 45 mins. Allow to cool for 10 mins prior to serving so that the sauce with thicken a little.