Slow Cooker Parmesan Chicken and Rice – most of my favorites at 1 dish! This creates a whole lot of chicken rice. I chased my cooked chickenand pitched it back in the rice. You might even leave the chicken breasts just serve them with rice. Either way would be fine. I simply like discovering chunks of chicken in my rice.
We LOVED this cheesy rice and chicken! It tastes good right from the toaster or leftover for lunch the following day! It disturbs me a great deal of chicken risotto. Now, I happen to LOVE chicken risotto, therefore that can be right up my street. Place It to the menu ASAP!!!
How to Make Slow Cooker Parmesan Chicken & Rice
This Slow Cooker Parmesan Chicken & Rice is super simple to create. Spray the slow cooker insert with cooking spray and put the chicken at the bottom. You may need 3-4 boneless chicken breasts, only based on their dimensions. You're shooting for approximately 2 lbs of poultry. Next blend with the soup mixture, cream of chicken soup, rice and milk. Pour over the chicken. Cover the slow cooker and let it work its own magic! If you truly feel like the rice and chicken mix is too thick, so don't hesitate to bring some chicken broth or even additional milk to cut it out. Don't hesitate to throw in some frozen mixed veggies also.
This Slow Cooker Parmesan Chicken and Rice uses a Package of Lipton's garlic soup Mixture. It'll Be alongside this Lipton's Onion Soup Mix in the supermarket. Please be aware, you're simply likely to only use the mixture. Do not create the soup. Additionally, be certain that you use routine long-grain ricerather than instantaneous. Should you use brown rice, then you'll have to correct the liquid along with also the cooking time.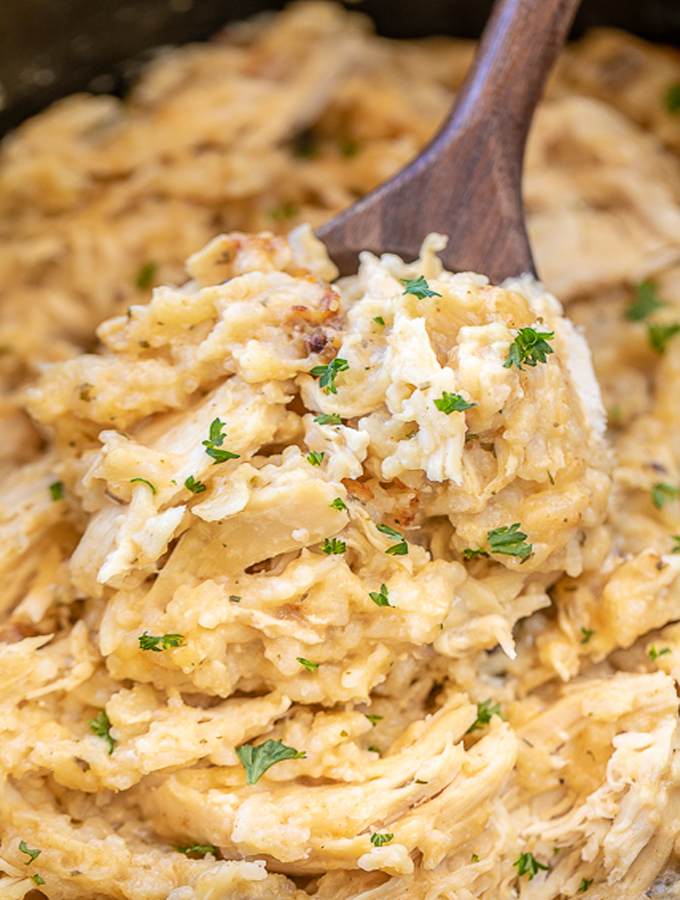 SLOW COOKER PARMESAN CHICKEN & RICE
Slow Cooker Parmesan Chicken & Rice a fast and effortless weeknight recipe! Just dump everything in the toaster and dinner is finished! Just 5 ingredients – chicken, Lipton's Garlic Soup mix, cream of chicken soup, milk and rice.Can add some mixed veggies too! Everybody washed their plate! Leftovers taste great also.
Ingredients
2

c

cream of chicken (10.75 oz)

4-6

skinless boneless chicken-breasts (about 2 lbs)

1

package Lipton Savory-Herb & Garlic Recipe Soup & Dip Mix

1

cups

milk

1

cup

regular long-grain rice

¼

cup

grated-parmesan

salt and pepper to taste
Instructions
Spray the insert of the slow-cooker with cooking-spray. Put chicken at the bottom.

Mix together the cream of chicken-soup, Lipton Garlic-Soup Mix, milk & normal rice. Season with pepper and salt, if desired. Pour over chicken. Sprinkle parmesan-cheese on top of rice mixture.

Cover slow-cooker and cook on HIGH for 3-4 hours.

Remove chicken from slow-cooker and chop. Put back into the slow-cooker & stir to blend.

When rice mix is too thick, add water, chicken broth or extra-milk to thin out.