Chicken Pot Pie – it is a savory dish full of grilled chicken, carrot, onion & peas in a creamy-sauce. Do you need to create your own pie crust? We choose to since the one thing better than exactly the exact same ol' chicken pot pie is chicken pot pie using a buttery, flaky home made crust, however, store-bought pie crust is still a super useful hack whenever you don't wish to spend some time building a crust from scratch.
How do you make sure your bottom crust doesn't get soggy?
This is all dependent on not using a soupy chicken-filling. The filling ought to be thick as it comes from the cooker, a lot of chicken broth and you're going to run the possibility of it seeping throughout your crust until it is boiled.
Can you make chicken pot pie ahead of time?
Absolutely! It is possible to make up the filling into a day beforehand and you are able to freeze an entirely unbaked chicken pot pie for as many as 2 months.
Can I use rotisserie chicken?
Of course! We enjoy turning into rotisserie chicken to get a shortcut every evening. This chicken pot pie utilizes rotisserie chicken at the most economical approach.
How long does chicken pot pie last?
Freshly roasted, chicken pot dish will last up to five days in the fridge. Cover with aluminum foil or store in a resealable container.
Want more amazing chicken recipes? Check this out about Chicken recipes.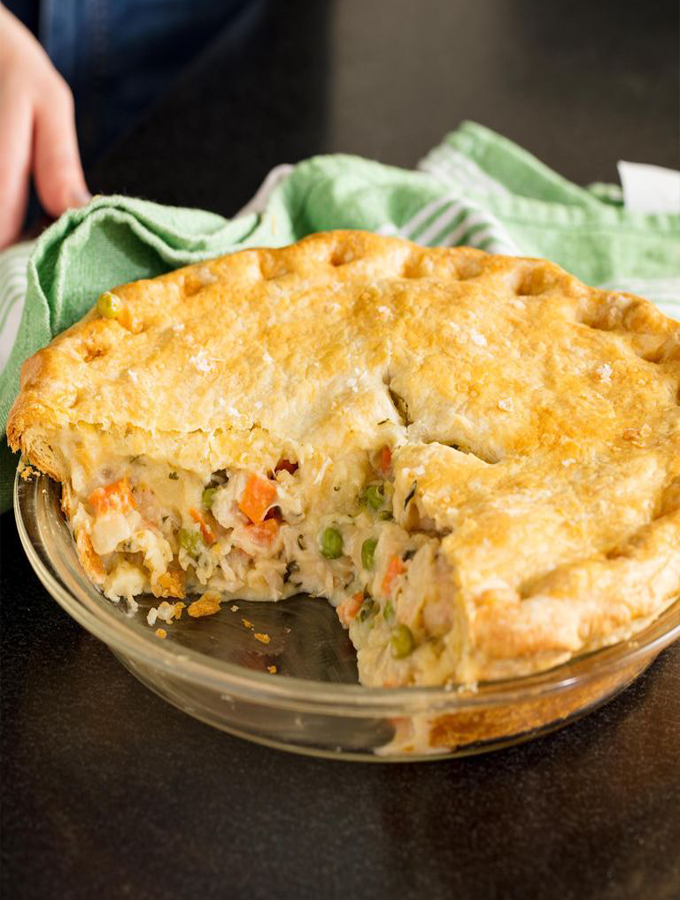 Homemade Chicken Pot Pie
Ingredients
For the Crust
1

tsp

baking-powder

½

c.

ice-water (or more, if needed)

1

c.

butter, cut-into ½" pieces

1

tsp

kosher-salt

3

c.

all-purpose-flour, plus more for surface
For the Filling
4

boneless-skinless chicken-breasts (or 3 cups shredded cooked-chicken)

Freshly-ground black-pepper

3

cloves

garlic, minced

Egg wash

2

large

carrots, peeled & diced

1

medium

onion, chopped

¾

c.

all-purpose-flour

3

c.

low-sodium chicken-broth

½

c.

butter, plus more for baking-dish

1

c.

frozen peas

kosher-salt

2

tsp

freshly-chopped thyme leaves

2

tbsp

freshly-chopped parsley

¼

c.

heavy-cream

Flaky sea-salt
Instructions
Make dough: Put butter & butter to deep freezer for 30minutes prior to beginning crust procedure. In a large food-processor, pulse flour, baking-powder & salt until blended. Add butter & pulse before pea-sized plus a few slightly bigger pieces shape. With the machine-running, add ice water to feed , 1 tbsp at a time, until dough only come together & can be moist but not wet and tacky (try by squeezing a pair together with your fingers).

Turn dough on a lightly floured-surface, shape into two balls & split into two discs (ensuring you will find no/minimal -cracks). Cover with plastic wrap & refrigerate for a minimum of 30minutes.

Cook-chicken: Preheat oven to 400°F. Grease a large baking dish with grease & butter a single side of a massive part of parchment using butter. Season chicken all over with salt & pepper then place in baking dish. Place 1 side of parchment paper , in order that chicken is totally covered. Bake until chicken is cooked through, 30-40minutes. Let reset 10minutes before cutting into cubes.

Meanwhile, begin filling: In a large-pot over moderate-heat, melt butter. Add carrots & onions and cook till veggies have begun to soften, about 10minutes. Stir in garlic, then stir in flour and cook until the bread mixture is golden and starting to bubble. Bring mixture to a boil and cook until thickened, about 5minutes. Stir in heavy-cream, cubed-chicken, peas, parsley and thyme. Season mixture with salt & pepper.

Assemble pie: onto a lightly floured surface, roll one disk of dough into a large circular about ¼" thick. Put into a shallow pie dish and then add filling. Roll out second disk of dough to a large circular about ¼" thick & place on top of filling. Brush with egg wash and sprinkle with darkened sea-salt.

Reduce heat to 375°F & bake pie until crust is golden, about 45minutes. Let cool for 15minutes prior to serving.