This Slow Cooker Honey Garlic Chicken contains succulent chicken vegetables and thighs at a tacky honey garlic sauce. It is a simple crockpot chicken recipe using 15 mins of homework until the toaster does all of the work. This is only one of my favourite crockpot chicken foods, while it's a simple weeknight dinner or even a special event. The chicken legs gotten so hot, they almost melt in the mouth! Along with the veggies act as mouthwateringly tender with yummy Asian tastes.
HONEY GARLIC SAUCE
When you eliminate the chicken and veggies in the crock pot, there will be a fantastic amount of honey sauce staying. I suggest putting it via a fat separator to eliminate extra fat before serving. For a thicker sauce, mix 2 tsp cornstarch with 3 tsp water at a cup and pour in the sauce when incorporating the legumes. The sauce will glow whereas the beans cook, therefore that everything is ready at the same time.
HOW TO MAKE SLOW COOKER CHICKEN
Put in a small bowl blend the sauce ingredients: garlic, honey, soy sauce, ketchup and oregano.
Blend the potatoes, onions, carrots.
Insert the chicken, veggies and sauce into the toaster.
Cover and cook for 6-8hours LOW (more powerful ) or 3 hours on HIGH.
approximately 20-30 mins prior to serving, add the green-beans along with discretionary cornstarch slurry.
Utilize bone-in chicken thighs every time possible. They will hold their shape during cooking, whereas boneless chicken legs may liquefy into shellfish!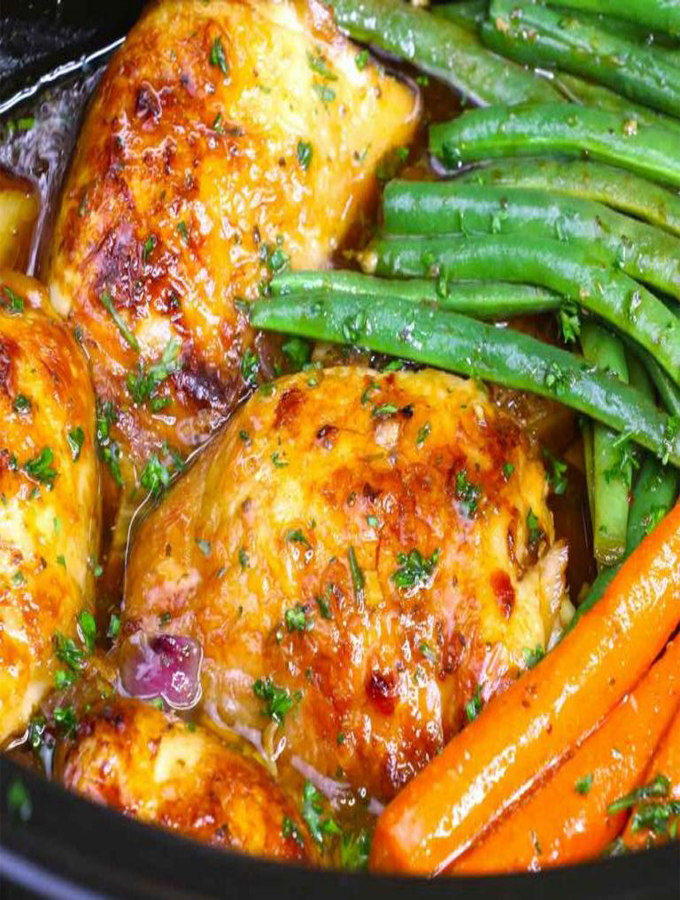 SLOW COOKER HONEY GARLIC CHICKEN
This Slow Cooker Honey Garlic Chicken recipe is among the simplest and most tasty crock pot dishes. Succulent chicken and veggies simmer in a skillet garlic sauce.
Ingredients
Honey Garlic Sauce
½

cup

soy-sauce, low-sodium

⅓

cup

honey

1

tsp

dried-oregano

1

tbsp

garlic, minced

¼

cup

ketchup
Crockpot Chicken & Vegetables
2

oz

chicken-thighs, bone-in, skin-on

fresh parsley, chopped, for serving optional

1

cup

onions, chopped

1

oz

carrots, peeled

1

oz

baby red-potatoes

1

oz

green-beans, trimmed

salt & pepper to taste
Cornstarch Slurry (Optional)
3

tsp

water

2

tsp

cornstarch
Instructions
In a small-bowl, whisk together garlic, honey, soy-sauce, oregano & ketchup.

Add the chicken-thighs, potatoes, onions & carrots into a 4-6 quart slow-cooker.

Pour the honey garlic-sauce mix evenly on the surface.

Cover the toaster and then seal the lid. Cook a LOW setting for 6-8hours or on HIGH for 3-3 ½ hours.

Approximately 20 mins before serving, add the green-beans into the slow-cooker & discretionary cornstarch slurry to your sauce.

Re-seal the lid and cook 15-20 mins longer until the green-beans are tender and the sauce is beginning to thicken.

Remove the vegetables & chicken to serving dishes with a skillet. Optional: Broil the chicken legs for 2-3 mins to brown skin.

Drizzle sauce in addition to chicken and veggies. Garnish with discretionary skillet.