Falafel are tasty balls of herb and chickpea goodness which you find in Middle-Eastern cooking. Naturally vegetarian and vegan, falafel are great in salads, sandwiches, wraps, and pitas. This is so easy to make it and you will really love it!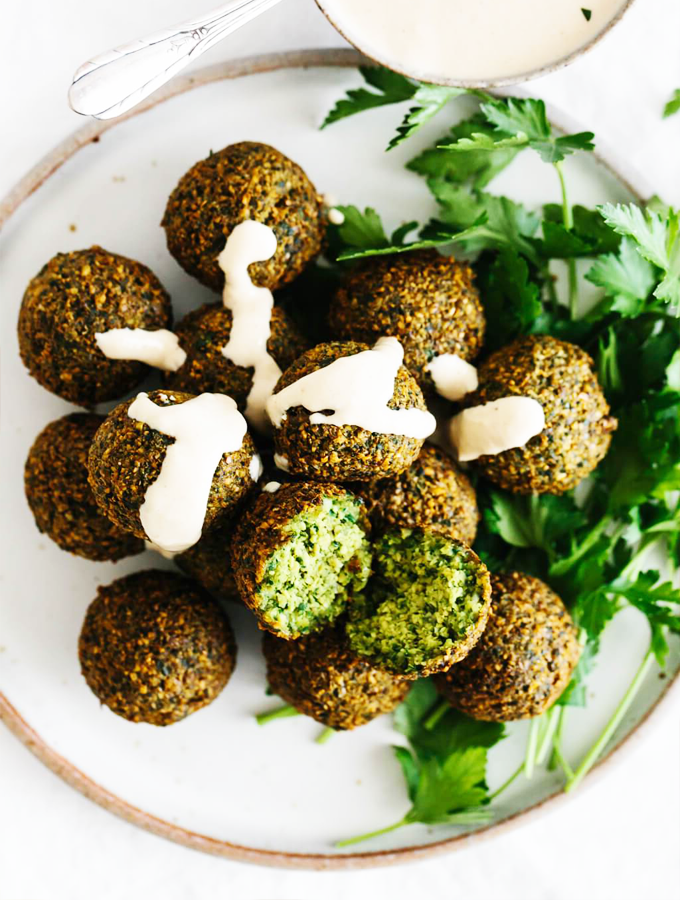 Traditional falafel is made of ground chickpeas or fava-beans, herbs and spices. The mix is then shaped into balls or patties and fried for a feel that is crispy on the outside and tender on the inside, kind of like a fritter.
It is a traditional Middle-Eastern and Mediterranean recipe that is enjoyed as street-food and frequently served as part of mezze (a set of little meals).
You will need Ingredients for this Falafel recipe
Falafel are naturally gluten-free and create from a few straightforward ingredients.
Chickpeas (Garbanzo-Beans): Just use soaked and dried chickpeas, not roasted chickpeas. Canned chickpeas will probably be too wet and soft as well as your falafel won't form correctly.
Parsley and Cilantro: Both of these tasty herbs inject heaps of taste in your falafel & turn the inside a gorgeous, vibrant green.
Onion: I utilize yellow-onion to get a slightly stronger taste, but you might use red or white onion too.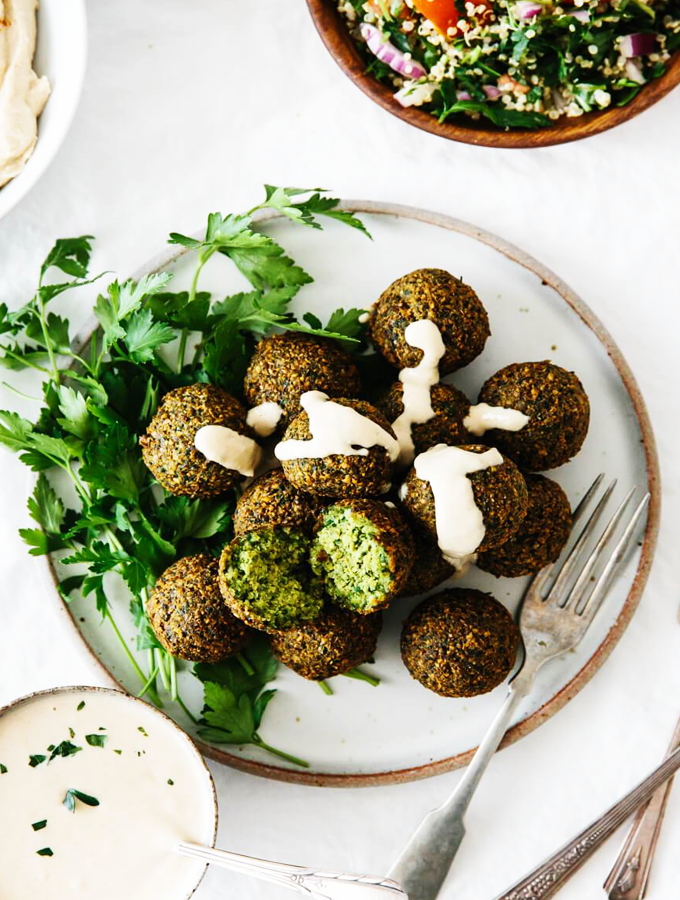 Green Chile Pepper (Serrano Pepper): A little pepper adds a kick of spice and flavor without over-powering that the falafel. It is possible to adjust less or more, but do not omit it without trying it first.
Garlic: Use fresh-garlic cloves instead of garlic-powder to the most robust taste.
Chickpea Flour: This will help to bind the mixture together and keep the contour whilst frying. I favor chickpea-flour, but you might also utilize a gluten-free flour blend.
Cumin, Cardamom, Salt and Black Pepper: All these aromatic spices have been used frequently in Middle-Eastern cooking and have an earthy, spicy, assertive taste you will love.
Oil for Frying: I use avocado -oil since it is high-heat secure and my favorite cooking oil. However, you might use vegetable-oil too.
Baking Soda: A vital component for helping provide the fluffy-inside texture of this falafel.
Falafel are best served immediately after cooking, so they are crispy and warm. They are delicious served in gluten-free pita, wrapped in collard greens or lettuce or topped with a simple green-salad. But do not forget to drizzle with Tahini-sauce.
I hope you enjoy and thanks a lot for reading. Want to browse all of my recipe posts? Follow my Pinterest.
If you love this Easy Falafel as much as I do, make sure to give it a 5-Star review in the comments below!
Try other Delicious Recipes options: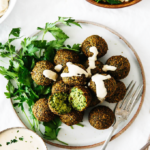 Print Recipe
Best of Easy Falafel Recipe
The greatest authentic falafel recipe that can be made in your home! A very simple mix of chickpeas, spices and herbs that is mixed together and fried (or roasted ). They are crispy, tender and flavorful!
Servings:
18
falafel balls
Ingredients
2

tbsp

chickpea-flour

1

small-green chile-pepper, serrano or jalapeno-pepper

1

cup

dried chickpeas, soaked overnight (don't use canned chickpeas)

1

cup

parsley, roughly chopped (about 1 large bunch)

1

cup

cilantro, roughly chopped (about 1 large bunch)

½

cup

onion, roughly chopped

3

garlic cloves

½

tsp

cardamom

1

tsp

cumin

¼

tsp

black-pepper

1

tsp

salt

½

tsp

baking-soda

avocado-oil for frying
Instructions
The night before, soak the dried-chickpeas in the water. Be certain that the water covers the chickpeas by 2-3inches.

Drain and rinse the chickpeas & put them into a food-processor.

Add the cilantro, cardamom, onion, parsley, pepper, garlic, cumin, salt, and black-pepper into the food-processor & pulse several times till it looks like the texture of coarse sand.

Transfer falafel mix to a bowl then add the chickpea-flour and baking-soda. Stir together, then cover or put in a lid. Refrigerate the mixture for half an hout to a hour.

Use ice cream scoop or your hands or falafel spade to form the falafel into balls or patties. If you discover the mix is too wet, you may add another tbsp of chickpea-flour. When it's too crumbly & dry, you may add a teaspoon or 2 of water or lemon-juice.

To deep-fry falafel, add 3-inches of oil into a pot on medium heat. Heat the oil to 350°F.

Cook the falafel in batches (roughly 6-8 at a time) for a few minutes or till golden. Use a skimmer to inspect the colour of this falafel and be certain they don't over cook. Then remove them into a paper-towel.

Serve immediately, while crispy and warm.
Notes
Falafel are greatest gold on the outside, not charred. Ensure that your oil does not get overly hot. If it does, the outside will cook too quickly prior to the interior can warm-up.
The falafel shouldn't not-break apart while cooking. They are slightly fragile, but should hold together and keep their shape.
PIN IT FOR LATER!