Vegan Mushroom Bourguignon is your greatest savory mushroom stew made in one-pot and served on pasta, cauliflower mash or farro and mashed potatoes! This is so healthy and so delicious meal plan.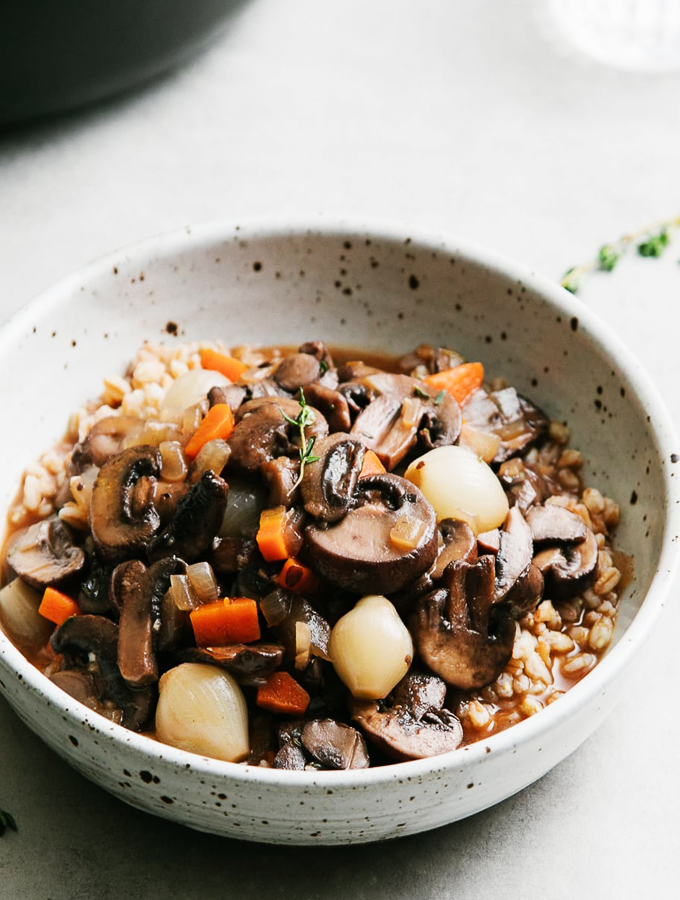 If you like cooking and mushrooms with red wine, then this Wonderful vegan mushroom bourguignon is for you. This fast, vegan take on the classic French dish beef bourguignon ditches the meat & utilizes mushrooms instead!
Cozy up with a warm-bowl of this hearty-mushroom stew with full of flavours and it's also fantastic for entertaining and holiday dining!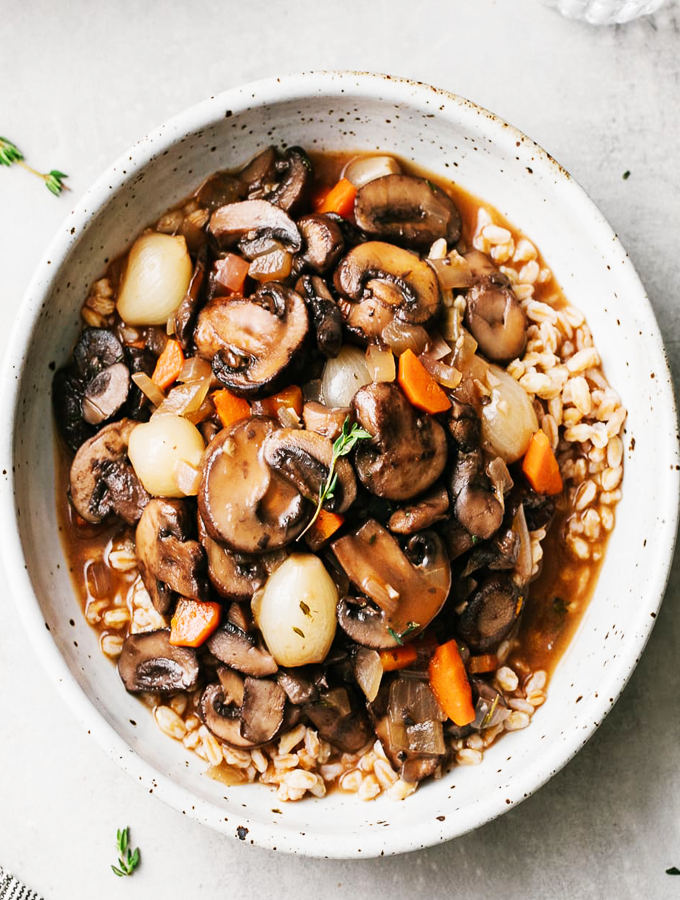 To make this recipe you will need Ingredients?
In this recipe, mushrooms, carrots, onions, thyme and red wine are simmered to a savory mushroom noodle ideal for both casual and classy dining.
Mushrooms, crimini (brown)
Vegetable broth
Pearl onions, white or brown
Onion, yellow, brown or white
Red wine
Garlic
Carrot
Thyme, fresh or dried
Flour
Tomato paste
Olive oil
Salt and pepper
Fact about mushrooms and why you should eat them often?
Mushrooms comprise 15 different vitamins, antioxidant and mineral and phytonutrients that are crucial to good health.
Mushrooms hold many health-benefits & must be an significant part your healthful way of life. They maintain your immune system healthy and specific varieties of mushrooms, such as crimini may be a fantastic source of vitamin B12.
I hope you enjoy and thanks a lot for reading. Want to browse all of my recipe posts? Follow my Pinterest.
If you love this Vegan Mushroom Bourguignon Recipe as much as I do, make sure to give it a "5 STAR REVIEW" in the comments below! Thanks.
Try other Delicious Vegan Recipes options: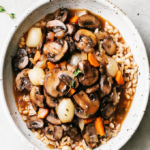 Print Recipe
Vegan Mushroom Bourguignon
Vegan Mushroom Bourguignon is your greatest savory mushroom stew made in one-pot and served on pasta, cauliflower mash or farro and mashed potatoes! This is so healthy and so delicious meal plan.
Ingredients
2

cups

vegetable-broth

2

lbs

mushrooms

sliced (brown, crimini)

2

or 3 cloves garlic

minced

1

large-carrot

diced

1

yellow-onion

diced

2

tbsp

tomato-paste

1

heaping tsp fresh-thyme leaves

or ½ tsp dried

1

cup

pearl-onions

peeled and ends trimmed (thawed if frozen)

1

cup

full-bodied red-wine

1½

tbsp

flour

mineral-salt and cracked-pepper

to taste

2

tbsp

olive-oil

divided

farro, mashed potatoes or pasta of choice or roasted

(for serving)
Instructions
In a heavy-pot or large-dutch, heat 1 tbsp oil on medium-high-heat, then add pearl onions & mushrooms, sear till they start to a tiny coloring for 3-4minutes.

Reduce heat to moderate, add the carrots, garlic, onions, thyme, pepper & salt then simmer for 5-7minutes, stirring occasionally, or till onions are lightly-browned.

Gradually add the red-wine into the pot & then scrap any bits that are stuck to the sides or bottom. Turn heat to medium-high & reduce wine by half.

Stir in broth & tomato paste, bring to a boil, reduce heat to low and simmer for 20minutes or till mushrooms are extremely tender.

Let simmer and covered, stirring occasionally and revel in the superb aroma.

In a small-bowl, mix together the remaining tbsp oil or water, using flour to make a paste. Then stir in the stew. Simmer for 10 minutes. If the sauce is too thin, boil it down to the right consistency. Season to taste.

Serve spooned over a bed of farro, oven roasted red potatoes, pasta of choice or mashed potatoes.
Notes
Oil-free: To create this mushroom bourguignon-oil-free, use vegetable-broth in place of oil when sauteeing. Rather than creating a oil and flour-paste, blend of 2 tsp cornstarch with 1

½

tsp, building a slurry.
Do not care to use wine, forget the step, including 2

½

cups of vegetable-broth instead of 2-cups.
To Store:
Freezer: Maintain saved in the freezer up to 2-3weeks. To freeze, let cool and store in freezer safe containers or in large ziplock bags. Let thaw before reheating.
Refrigerator: Leftovers will keep for 5-6days in the fridge, kept in a covered container.
Reheat: Just rewarm on the stovetop over-low heat till warmed through. Alternately, reheat in the microwave fow a few seconds intervals, stirring after each, till warm.
PIN IT FOR LATER!