This super simple, ultra-creamy and intensely spiced Cauliflower and Chickpea Masala is my new favourite dinner! This spicy-creamy sauce is simply so I must sop up every last bit with a bit of naan. This dish comes together super quickly, is inexpensive, needs very little chopping and holds up well in the refrigerator, so it is fantastic for supper prep!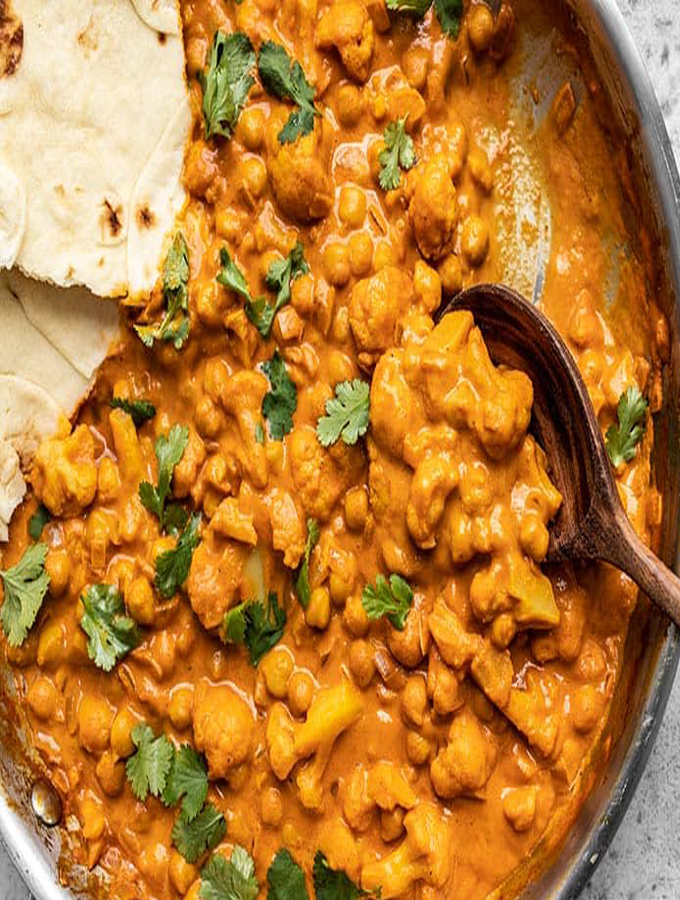 Make it Vegan
A simple sub for the heavy-cream in this recipe could be full-fat coconut-milk. You may can fool around with the quantities, but I would guess somewhere between 1/2 to 1 cup could do the job nicely.
Make it your own, Spicy or Not
It is possible to adjust the warmth of the sauce by increasing, diminishing, or perhaps removing the quantity of cayenne pepper from the spice mixture. The total listed below generates what I'd call a"moderate" spice amount, but that is really subjective, so take this with a grain of salt.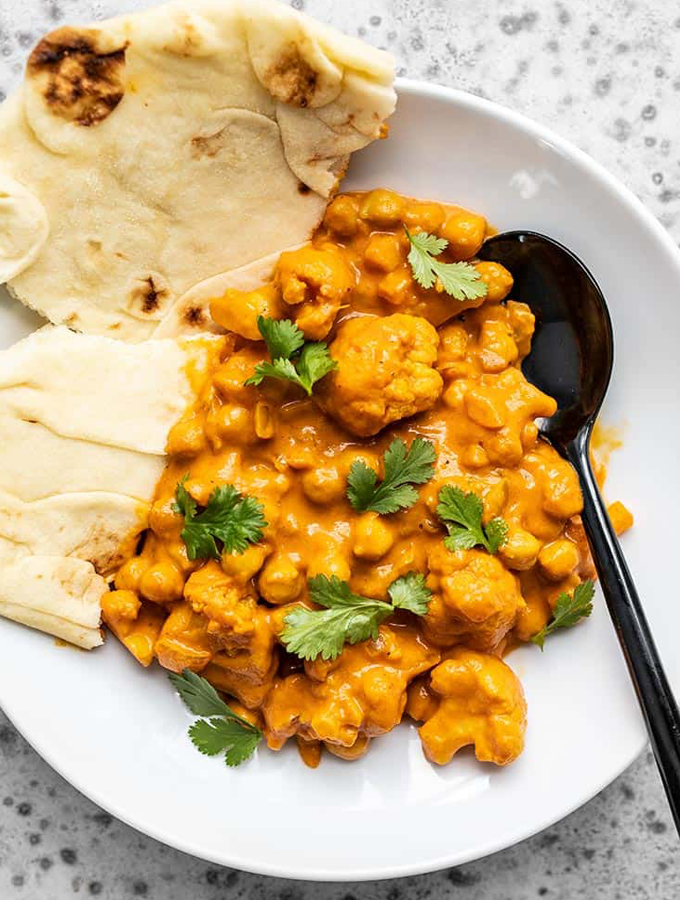 How to Serve?
I have been eating my own Cauliflower and Chickpea Masala using a bit of naan bread to spice up that yummy sauce, but this dish will be equally good within a hot of rice. In any event it is spicy, creamy and so delicius!
As reminder, for those residing outside the USA, our "Tomato-Sauce" is puréed cooked tomates with a little salt & at times a scant quantity of nin-powder. The closest thing to this will most likely be passata.
I hope you enjoy and thanks a lot for reading. Want to browse all of my recipe posts? Follow my Pinterest.
Please, if you recreate this Cauliflower and Chickpea Masala recipe, don't forget to give me star rate or comment below. Thanks!
Try other delicious dinner recipes options: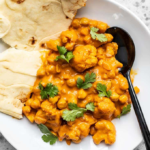 Print Recipe
Cauliflower and Chickpea Masala
This super simple, ultra-creamy & heavily-spiced Cauliflower and Chickpea Masala are your new favourite weeknight dinner! So much taste and so delicious!
Ingredients
Masala Spice Mix
2

tbsp

garam-masala

½

tsp

turmeric

¼

tsp

cayenne

½

tsp

cumin

freshly cracked-pepper

½

tsp

smoked-paprika

½

tsp

salt
Skillet Ingredients
⅓

cup

heavy-cream

1

yellow-onion

½

tbsp

grated fresh-ginger

1 15

oz

can chickpeas, drained

12

oz

frozen cauliflower-florets

1 15

oz

can tomato-sauce

3

cloves garlic

¼

cup

water

2

tbsp

olive-oil

salt, to taste
Instructions
In a small-bowl, combine the spices to the masala spice mix (garam masala, turmeric, cumin, cayenne, smoked-paprika, pepper and salt).

Finely dice the onion, mince the garlic and grate the ginger. Add all into some large-skillet along with the olive-oil & saute over moderate heat till the onions are tender and translucent approximately 3minutes. Add the spice mix and keep to saute for an additional moment.

Add the frozen-cauliflower-florets into the skillet with the aromatics and spices, then contiune to saute for approximately 5minutes or longer, or till the cauliflower have thawed via and therefore are completely covered in spices.

Add the drained chickpeas, tomato-sauce, and also 1/4 cup water into the skillet. Stir to blend, then enable them to simmer over medium-low heat, stirring occasionally for approximately 15minutes. This will assist mellow the acidity of the tomato-sauce and permit the spices to blend. If the mixture gets too dry as it simmers, add a few more tbsp of water.

Following the sauce has simmered about 15minutes, switch off the heat and stir in the heavy-cream. Give the masala a flavor and add salt as necessary. Serve in a bowl over rice with a bit of bread.
PIN IT FOR LATER!