This Baked Eggplant Parmesan is so delicious and rich of taste, with crispy coated eggplant slices smothered in cheese and marinara.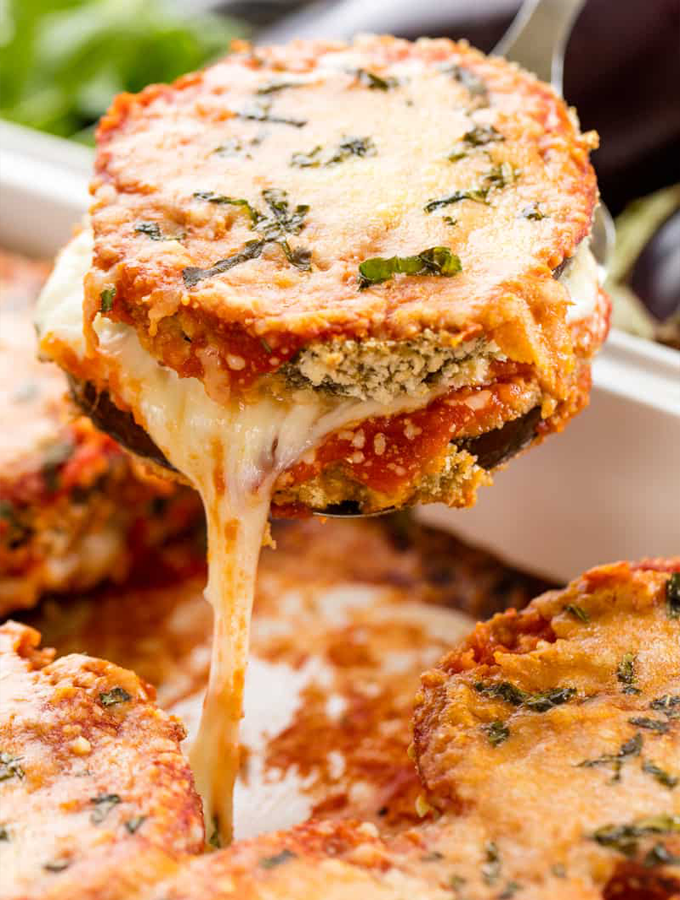 Eggplant parmesan tastes quite much like ordinary chicken parmesan. We often wonder what taste the eggplant itself brings the dish.
Eggplant has a very mild taste, such as spaghetti squash. Since it's such a gentle taste, it is easily utilised in recipes which have bold tastes. In some thing like eggplant parmesan, the eggplant taste itself is not even actually tasted.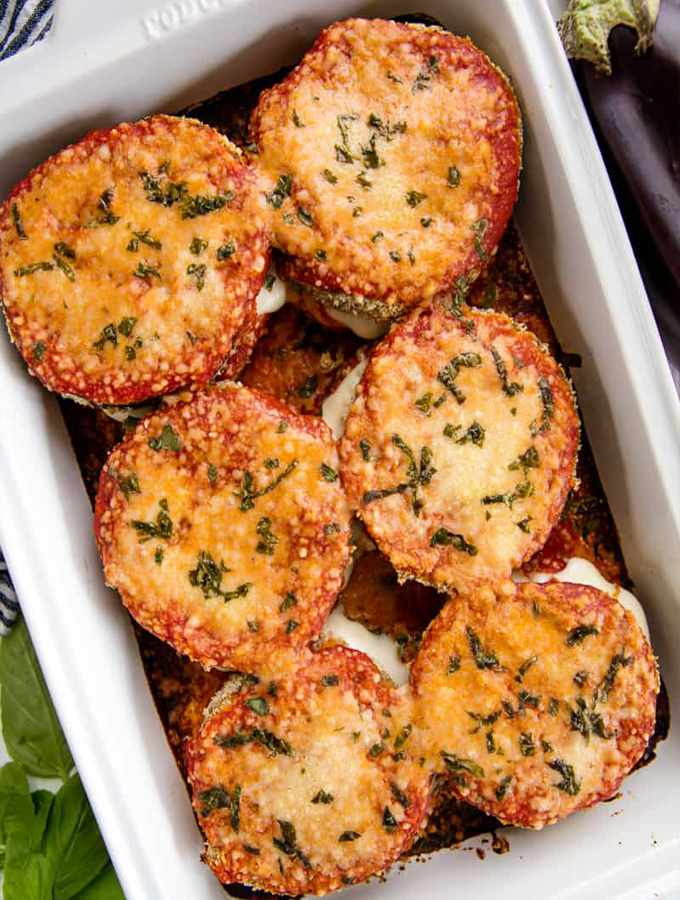 The peel of an eggplant is totally edible. However, since the eggplant develops larger and matures, the peel might become bitter and tough. We often prefer to peel bigger eggplants for this, but smaller eggplants do just nice handed.
Like most casseroles, you can either prep ahead of time and freeze before baking, or you can freeze leftovers. Make sure you let it thaw completely before baking/reheating. The easiest way to do this is to let it thaw in the fridge for about 24 hours.
I hope you enjoy and thanks a lot for reading. Want to browse all of my recipe posts? Follow my Pinterest.
Please, if you recreate this Baked Eggplant Parmesan Recipe, don't forget to give me STAR RATE (★★★★★) or comment below. Thanks!
Try these Delicious Recipes options: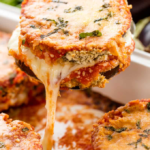 Print Recipe
Baked Eggplant Parmesan
This Baked Eggplant Parmesan is so delicious and rich of taste, with crispy coated eggplant slices smothered in cheese and marinara.
Ingredients
3

medium eggplants

1

cup

all purpose flour

1

tsp

garlic powder

1

cup

Italian style bread crumbs

2

cups

marinara sauce

¼

tsp

pepper

1

tsp

salt

¼

cup

chopped fresh basil

1

cup

panko bread crumbs

8

oz

fresh mozzarella sliced

2

large eggs

½

cup

freshly grated parmesan cheese divided

1

tsp

salt
Instructions
Slice eggplant to ¼-inch rounds. Lay out in one-layer on a paper-towel lined baking-sheet and sprinkle with salt. Let sit to release moisture about 1-hour.

Preheat oven to 400°F. Lightly grease 1-2 large baking-sheets.

Set 3 shallow dishes. In a first dish, stir together flour, pepper and salt. From the next dish, whisk eggs. From the next dish, stir together Italian bread crumbs, panko bread crumbs and garlic powder.

Working one at a time, dredge eggplant pieces in flour mixture, dip in egg mixture, then coat in bread-crumb mix. Put onto the prepared baking sheet at an even coating. Sprinkle onto a light coating of parmesan cheese.

Roast in the preheated oven for 20minutes, then flipping eggplant pieces halfway through.

Spread 2 tbsp of marinara to the base of a lightly greased 9×13″ dish. Layer half the eggplant pieces on the bottom. Top with half the remaining marinara, then coating on each one the mozzarella slices. Sprinkle on half the parmesan cheese and half the basil.

Put remaining eggplant slices on the top and cover with remaining marinara, parmesan cheese and basil.

Then bake, uncovered, at the 400°F oven for 20-25minutes till cheese is melted and the top is bubbling and lightly browned.