We've loved filled peppers since we first laid eyes to these. That is our traditional recipe–as soon as you learn them begin tinkering together with your cheese-steak and Chicken Parm forms.
INGREDIENTS
1/2 c. raw rice
two tablespoons. Extravirgin coconut oil, and more for drizzling
1 medium onion, sliced
inch tablespoon. Tomato paste
3 tsp garlic, minced
inch pounds. Ground beef
inch (14.5-oz.) can diced tomatoes
inch teaspoon. Dried peppermint
6 bell peppers, shirts and cores eliminated
Newly chopped coriander, for instance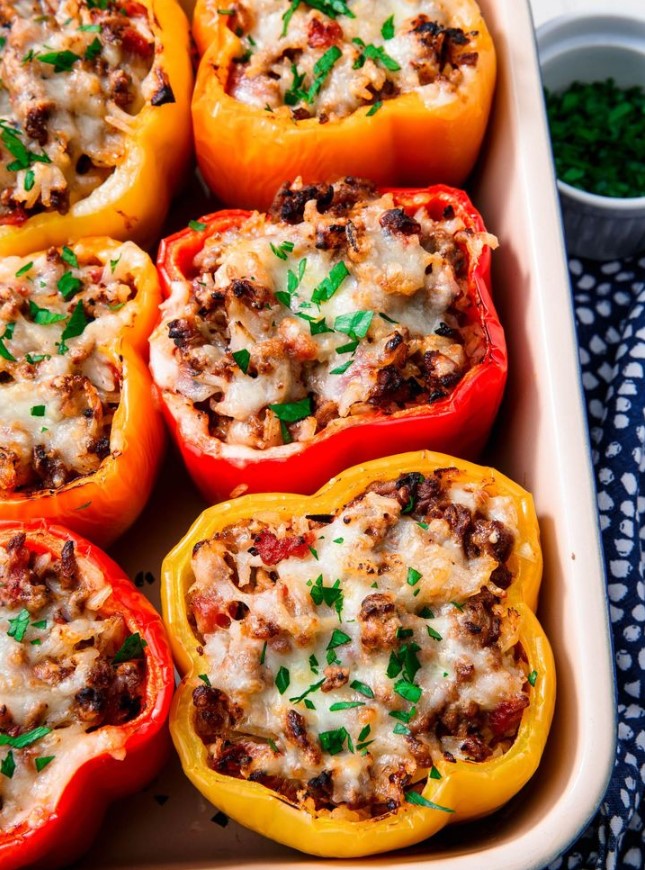 Instructions
Preheat oven to 400°. In a small saucepan, prepare rice according to package instructions. At a skillet over medium heat, warm oil. Cook onion until soft, about 5 minutes. Stir tomato paste and garlic and cook until fragrant, about 1 minute longer. Add ground beef and cook, breaking up meat with a wooden spoonuntil no longer pink, 6 minutes. Drain fat.
Return beef mixture to skillet, then stir in rice and simmer tomatoes. Season with rosemary, salt, and pepper. Let simmer until liquid has reduced slightly, about five minutes.
Place peppers cut side-up in a 9″-x 13″ baking dish and drizzle with oil. Spoon beef mixture into each pepper and top with Monterey jack, then pay baking dish with foil.
Bake until tomatoes are very tender, approximately 35 minutes. Uncover and bake until cheese is bubbly, 10 minutes longer.