All these Easy, Cheesy Scalloped Potatoes are smothered in a creamy cheese sauce and roasted to perfection. Using a fast shortcut, this traditional side dish requires under one hour from begin to finish. They are certain to be a hit in your holiday banquet.
Cheesy Scalloped Potatoes are the favourite way to produce potatoes. They're an ideal side dish recipe, especially Cheesy Homemade Pizza Pockets or our Easy Crockpot Cheesy Potatoes and the Cheesy Garlic Butter Bubble Bread.
I really like this recipe since it is super simple and tastes better than every curry casserole I have ever had. This might be a result of the huge quantities of new Cheddar cheese at the rich, creamy sauce.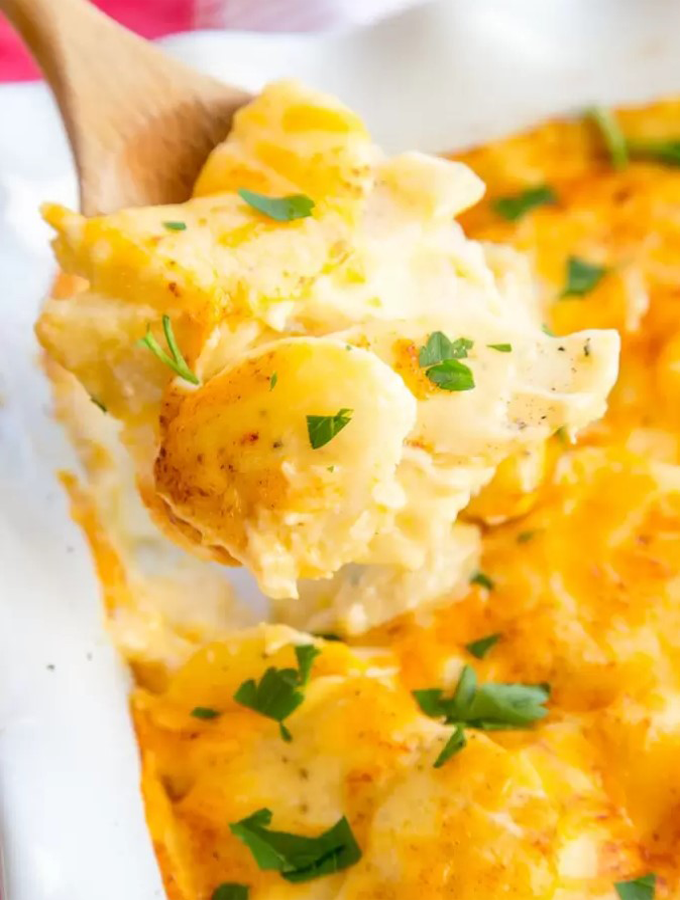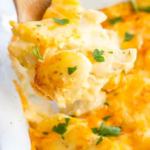 Print Recipe
Cheesy Scalloped Potatoes
Easy Cheesy Scalloped Potatoes would be the ideal side dish! Par-boiled rather than roasted uncooked, these cheese-potatoes will probably always be cooked into creamy-perfection.
Ingredients
2

lbs

russet-potatoes

2½

cups

freshly grated sharp cheddar-cheese, divided

2

cups

non-fat milk or half & half

¼

cup

all-purpose flour

¼

cup

butter

fresh chopped chives or parsley for garnish

paprika for garnish

salt and pepper
Instructions
Preheat oven to 350°F and grease a 13×9" baking pan with cooking-spray.

Bring a large-pot of water to a boil. Scrub potatoes and set them whole, in the boiling water. Cook for approximately 20minutes. Remove from the water & let sit until cool enough to handle.

Make the cheese-sauce. Melt butter in a medium saucepan over moderate heat. Whisk in lour & cook, whisking constantly, until flour is golden-brown, roughly 2minutes. Stir in milk and cook, stirring frequently, until thickened roughly 2-3minutes. Remove from heat & stir in shredded cheese. Season with pepper and salt.

Gently peel potatoes & slice to ⅙" rounds. Place ⅓ of this potatoes overlapping in one layer in the baking dish, seasoning with pepper and salt. Spoon about ⅓ of this cheese-sauce in addition to the potatoes.

Repeat for 2 more layers. Pour each the rest of the cheese-sauce on the top layer of potatoes. Spread to guarantee each the potatoes are covered.

Sprinkle with ½ cup shredded-cheddar (if desirable) and paprika (about ⅛ tsp only for colour).

Bake in the 350° oven for 20-25minutes, or until sauce is bubbly.

Garnish with fresh-chopped chives or parsley, if desired. Serve immediately.