Broccoli and Mushroom Stir Fry – stirfried veggies may be an ideal weeknight meal. You're able to serve vegetarian stirfry on top of quinoa for many additional protein in your own life, or you'll be able to eat it with a fine helping of rice that is healthy. I have made it using some fried tofu on the top also it's really consistently yummy.
However you decide to serve it, making the stir fry satisfying boils to a particular decision: choose the veggies sensibly. You might utilize any seasonal vegetable, this really is accurate, but there certainly are always a couple key center piece ingredients which produce HighProtein vegan stirfry recipes super pleasing.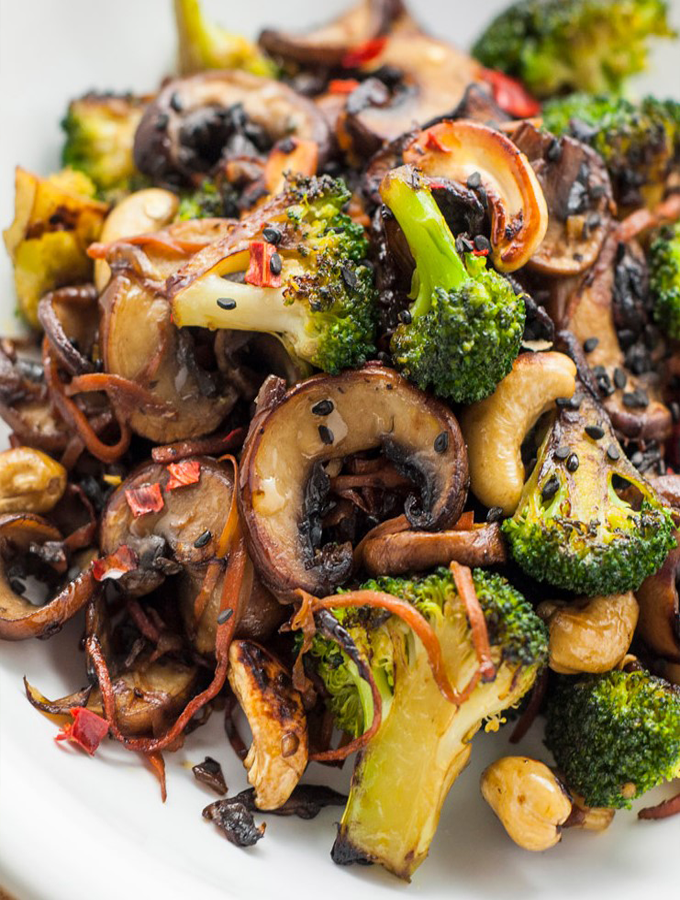 Ingredients:
2 cups-broccoli, cut into small florets
3 Tsp garlic, minced
1/4 cup red onion, sliced-small
2 cups-mushrooms, chopped
2 Tsp fresh-ginger, grated
1/4 Tsp crushed red pepper (optional)
1/4 cup-vegetable broth, optional water
1/4 cup-cashews, optional water chestnuts
1 Tbsp sesame-seeds
1/2 cup-carrot, shredded
2 Tbsp rice wine-vinegar
1 Tbsp coconut-sugar, optional
2 Tbsp low-sodium soy-sauce
Directions:
Prep Time: 10mins Cook Time: 20mins Total Time: 30mins
At a large skillet on high heat, bring the broccoli, garlic, onion, mushrooms, red pepper, ginger, and warm water. Cook, stirring frequently until broccoli is tender and onions are translucent. Add more and broth as needed to avoid the vegetables from sticking.
Stir in the carrot, cashews, ginger, soy sauce, and sugar. Stir well and simmer for approximately 2mins. Drink or in addition to quinoa or brown rice.