Perhaps you have heard of made Mexican road corn? Like its name implies, Mexican road corn is generally sold in small food stands across roads in Mexico where there is plenty of tourists and pedestrians walking about. It is often sold to the cob or in a cup also can be slathered in mayo, cotija cheese, cheese powder and spices and herbs. It could sound a little odd if you have never needed it earlier, but trust me, even the moment you attempt it, you are going to get on it.
Do not understand exactly what a tostada really is? I have got you. It is essentially a giant, spherical, thick tortilla chip which you just top with everything your little heart desires and you pick it up and eat it just like a pizza. I mean, what exactly does not seem great about this? I bought the tostadas in my neighborhood grocery shop in the Nordic food aisle, however in case you can not find them there, then you may want to visit an ethnic/Hispanic grocery shop close to you. Since they have got everything. Should you make this recipe, then allow me to know in the comments below.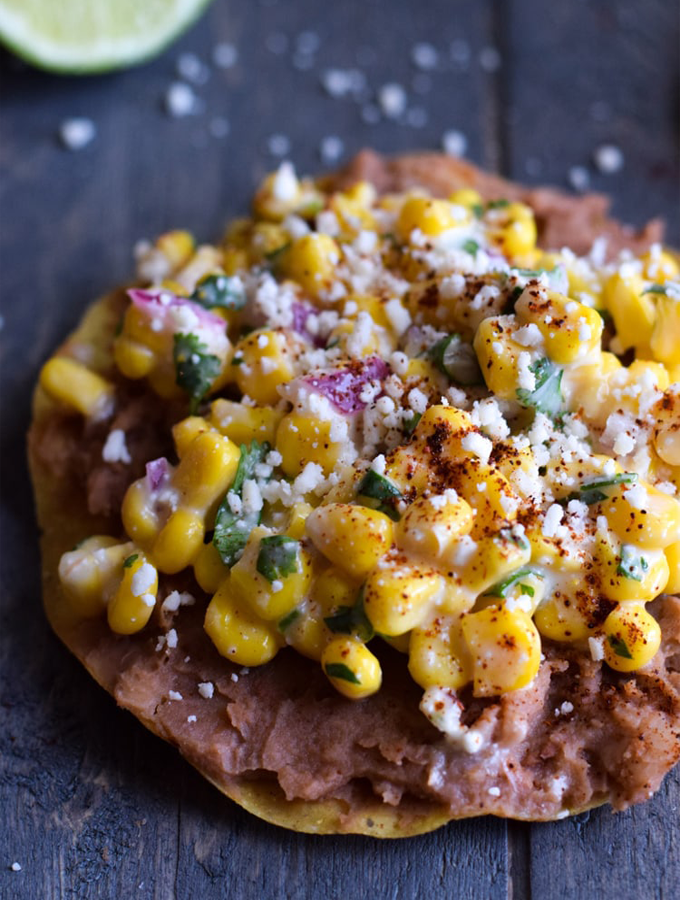 MEXICAN STREET CORN TOSTADAS
Ready in only 15minutes, these Mexican Street Corn Tostadas make for an easy-lunch or quick-dinner that's also gluten-free & vegetarian.
Ingredients
¼

cup

mayonnaise

¼

tsp

salt

1 15

oz

can whole kernel-corn, drained

¼

cup

finely chopped red-onion

Juice of half a lime

8

tostada shells, store-bought or homemade

1 15

oz

can refried-beans

2

tbsp

cotija-cheese, plus more for topping

⅓

cup

finely chopped cilantro

chili-powder to season for topping, optional
Instructions
In a big bowl, then add corn, mayonnaise, red-onion, cilantro, lime-juice, salt 2 tbsp of cotija-cheese.

Mix with a spoon till the corn is equally coated with each of the ingredients. Put aside.

Heat the refried-beans in a bowl in the microwave for approximately 2-3minutes, or until completely warmed through.

To assemble, spread about 3-4 tbsp of refried-beans on each tostada & top with a spoonful or two of the road corn mix.

Sprinkle with a few cotija-cheese and a dash of chili-powder.