This Rainbow Vegetarian Pad Thai is the first and foremost Rainbow, that is the sole enjoyable way to consume anything on your own. It's brown rice noodles (since we are doing the sugar-free experimentation and finely avoiding processed grains) and also spiralized veggies (since vegetables in noodle shape feels just like more noodles) plus also a super tangy-delicious Pad Thai sauce which you shake in a jar at about 5 minutes flat, and peanuts which almost instantly begin to consume the sauce, along with a lightly scrambled egg that type of cream-ifies the entire thing.
This Rainbow Vegetarian Pad Thai (with peanuts and ginger dohhh) is only really great, my friends. It's actually nice and surprisingly simple. I took a couple of thoughts I'd noticed out there at the large wide online world (veggies ! Pad Thai sauce-ery!) And forced them . And I am rather pleased with how it was + the minuscule quantity of effort it requires to arrive.
I have been taking it easy recently from kitchen. While I say take it easy, I do not mean that making ten min java artichoke toasts along with five min magic green sauce. I am taking it easy like in not cooking anything. We are speaking life-saving dinner created with friends, sexy dogs (gulp), mac and cheese, and chicken nuggets from the freezer. Throughout these last couple of weeks, my previous self has certainly been food-snob-judging my existing self. If anything else, this experience has shown me my ideals for feeding and cooking children have any work to do with respect to aligning themselves with fact.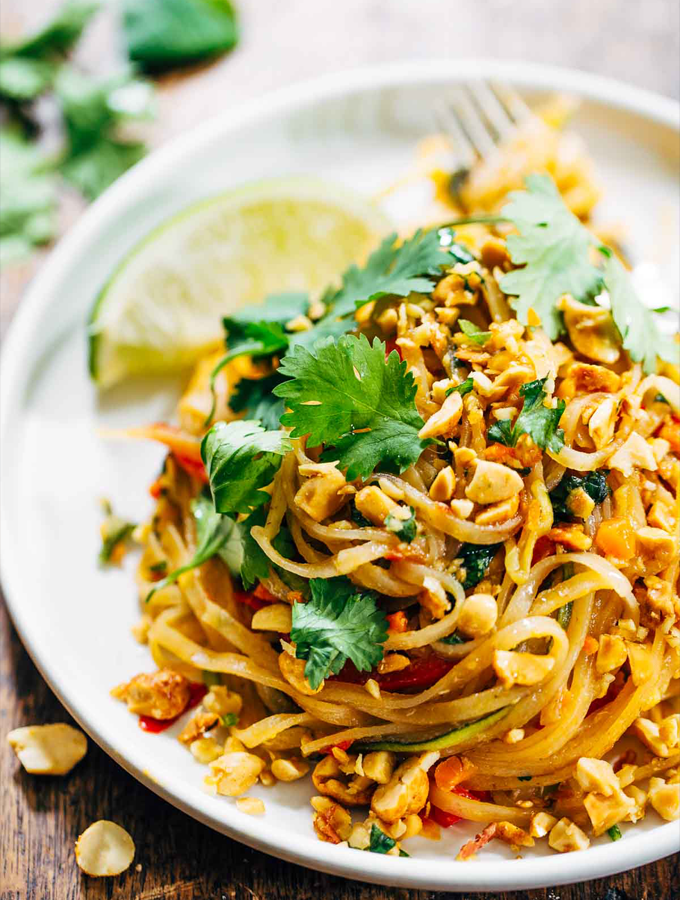 Rainbow Vegetarian Pad Thai with Peanuts and Basil
Rainbow Vegetarian Pad Thai with a simple 5 ingredient Pad Thai sauce, adaptable to almost any veggies you have available! So simple and delicious!
Ingredients
For the Pad Thai
4

oz

brown-rice noodles

½

cup

fresh herbs like cilantro, green-onions and basil, chopped

half a yellow-onion

1

red-pepper

2

carrots

1

zucchini

1

egg, beaten

½

cup

peanuts, chopped

2

tbsp

oil
For the Sauce
3

tbsp

brown-sugar

3

tbsp

chicken or vegetable broth

3

tbsp

fish-sauce or vegan fish sauce substitute

1

tsp

chili-paste (sambal oelek)

1

tbsp

soy-sauce

2

tbsp

white-vinegar
Instructions
Set the uncooked noodles in a bowl of cold-water to soak.

Spiralize that the zucchini, red-pepper and onion to noodle-like shapes. Cut the carrots into tiny pieces (or even spiralize them, also, if they are large enough).

Shake up the sauce-ingredients in a jar.

Heat a tbsp of oil over moderate high heat. Add the veggies stir fry using tongs for 2-3minutes or till tender-crisp (in case they're not spiralized, then they may need longer). Take care to not overcook them they'll get soggy & heavy. Transfer to a dish & put aside.

Add another tbsp of oil into the pan. Drain the noodles, then add the noodles into the skillet and stir fry for a moment, with tongs to throw. Add the sauce & stir fry for 2 minutes till the sauce is beginning to thicken and adhere into the noodles. Push the noodles apart to create a small space for the egg pour the beaten egg to the pan and allow it to sit for a minutes. Toss everything around together with the tongs. The egg mixture will follow the noodles and that which will begin getting tacky.

Add in the vegetables, toss together & remove from heat. Stir in the vegetables and peanuts and serve immediately.