Vegan Rice Paper Bacon this is so tasty, crispy, salty, smoky vegan rice bacon and full of flavour, made with simple ingredients. Vegetarian, Gluten-free, Nut-Free recipe. Who knew curry bacon might be this simple and so delicious!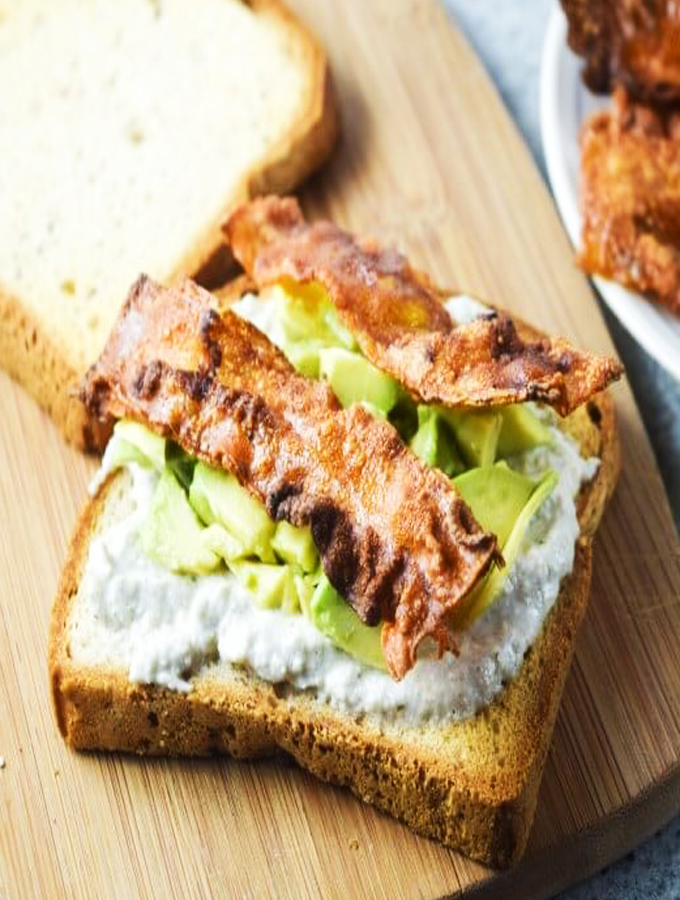 What's rice- paper? I am referring to this rice-paper used for wrapping spring rolls, not the sort for calligraphy. You may find it at the Asian section of most grocery stores.
Rice bacon is created out of a simple but full of flavour. After learning about this procedure, I got around to creating it together with my own favorite "bacon-inspired" marinade and it didn't last long in my kitchen. I creat it a few more time so I could discuss it with you personally.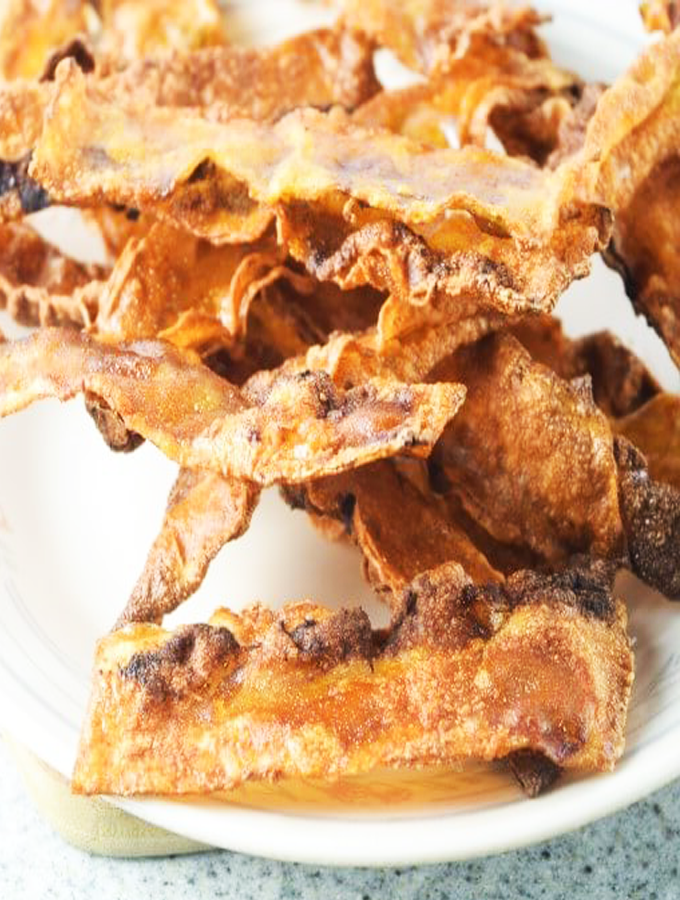 This vegan rice bacon is made entirely from scratch, and completely from plants. So for anybody who appreciated the crunchy feel and smoky, super yummy taste of this'real thing', but does not wish to eat meat , I hope you'll give this a go.
No, this vegan bacon isn't "just like bacon". However from all the substitutes I have attempted up to now, this one really does the best job of capturing the qualities of 'real thing' I enjoyed the most and make it your own.
There are 3 Simple Measures to Creating your own rice :
Whisk up a simple smoky-sweet-marinade.
Cut sheets of rice-paper into pieces, dip them quickly in water to soften and then stick them together. Then liberally coat them in the marinade.
Bake, fry, or microwave them into crispy vegan bacon deliciousness.
The rice bacon strips will remain crispy for a few days if stored properly (see the recipe notes).
I hope you enjoy and thanks a lot for reading. Want to browse all of my recipe posts? Follow my Pinterest.
If you love this Vegan Rice Paper Bacon as much as I do, make sure to give it a 5-Star review in the comments below!
Try other delicious Vegan Recipes options: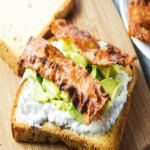 Print Recipe
Vegan Rice Paper Bacon
Vegan Rice Paper Bacon this is so tasty, crispy, salty, smoky vegan rice bacon and full of flavour, made with simple ingredients. Vegetarian, Gluten-free, Nut-Free recipe. Who knew curry bacon might be this simple and so delicious!
Ingredients
rice-paper (there should be enough marinade to make 8 sheets of rice paper's worth of rice paper bacon, possibly more)

½

tsp

liquid-smoke

3

tbsp

soy-sauce (or tamari for gluten-free)

2

tbsp

neutral-oil

3

tbsp

nutritional-yeast

½

tbsp

maple-syrup (this only gives a slight sweetness to round out the flavors, but you can feel free to omit or reduce it)

pinch of paprika (I used hot spanish-paprika)

generous pinch of ground black-pepper
Instructions
Preheat the oven to 400 degrees. Whisk together all the ingredients for the marinade in a wide-bowl before the nutritional-yeast is incorporated nicely, prepare another wide-bowl stuffed partway with plain-water.

Prepare a metal, oven-safe rack using a sheet of parchment-paper. (Skip this when microwaving).

Cut rice-paper into thick-strips, or into the size you would like. Be aware that the strips will probably shrink in little bit after cooking. Some manufacturers of rice-paper will crack just a tiny bit once you cut themUse a large, very sharp knife to lessen this.

Take 2-strips and pile them. Holding them together, dip them really quickly to the water. (Should you've kitchen scissors, consider dipping 2 complete rice-paper sheets piled together to the water, then cutting them into pieces. I really don't advise cutting wet rice with a knife, it is not quite as simple as it sounds ). They should then begin to stick together by themselves. Gently squeeze excess water in the fused set of rice-paper strips.

Dip the fused set of rice-paper strips to the marinade & coat it generously, put it upon the parchment-paper.

Repeat with additional rice-paper/rice-paper strips till the rack is stuffed. NB: Periodically cease to whisk the marinade again & again re-emulsify it, the oil will begin to separate over time.

Bake for approximately 7 to 9 minutes, or till crisp. The strips may burn easily, so keep your eye on it and take them out when they are done. The final result will be crispy with some slightly chewy pieces.

Once fully chilled, keep leftover rice-bacon in an airtight container at room temperature for up to 3-days. It'll remain pretty crispy.
Notes
MAKE THIS IN THE MICROWAVE: The vegan bacon that is almost too good to be true. I found it on accident when I only wanted to examine the tastes. The texture is not as good as in the oven, but it is still terrific. Take a microwave-safe plate and put the marinated uncooked strips onto it. Don't crowd the pan, you might need to work in batches. Microwave at 30-second spans at full power till crispy. You may hear a great deal of sizzling and will need to wash excess oil out of the plate between batches. OPTIONAL "MARBLING": Take a few spoonfuls of additional marinade and put in a dash of balsamic-vinegar & also another sprinkle of black pepper, and blend. Use a brush to dab on a very light moderate amount of the balsamic mix onto different areas on the rice-paper bacon strips. After baked they will create the marbling effect.
PIN IT FOR LATER!