Ricotta And Spinach Calzones – a cheesy ricotta and lettuce vegetarian calzone to substitute to a pizza routine. Friday! We made it! I have been a complete slacker on posting lately — I actually don't understand exactly what happened, but we all of a sudden got wayyy busier than we've been since we've moved into Austin. I think it's fine though. We had a bit of a break after moving for settled and only take a breath, however we're back to the craziness of life and loving it. Well, most of the moment. Just maybe not when I actually don't get to speak to you guys for a week as I have a tough time locating a couple of minutes to post those beauties.
If you see my past article or follow-me on Instagram, then you are going to understand we did a 10 day cleansing that ended a couple of days ago in a bid to re set our eating customs and then cleansing our machine. We've completed exactly this same cleansing 4-5 times today and each time that I love it! I recover energy, get straight back in the habit of drinking a lot of water, then lose a number of my mad cravings for candy, and like an added bonus, then discard a couple of pounds! We also made several conclusions after finishing the cleansing. Ok, all these calzones. After all, think about it, right simply want to pop up the whole lot on orally?? I used my favourite pizza dough recipe and then packed them together using of the yummy ingredients that they urge and they ended up absolutely! I am in full favor of this Meat Less calzone since you never receive all of the unnecessary dirt out of the beef grilling to your calzone bread it's simply a milder, but filling meal.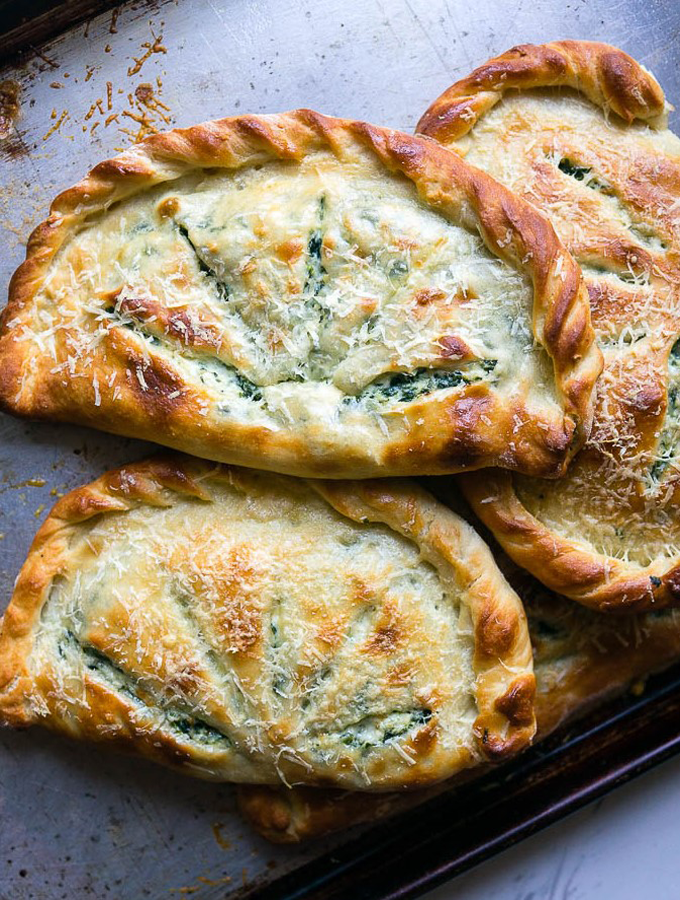 ricotta and spinach calzones
A cheesy ricotta and spinach vegetarian calzone to substitute into your pizza routine! 


Ingredients
10

oz

frozen chopped spinach, thawed and squeezed dry

10

oz

ricotta cheese

4

oz

mozzarella cheese, shredded

1

oz

Parmesan cheese, grated

1

tbsp

olive oil

1

Large Egg

lightly beaten with 2 tablespoons water, plus 1 large egg yolk

1

tsp

garlic powder

1 ½

tsp

minced fresh oregano

⅛

tsp

red pepper flakes

1

tsp

salt

1

lb

pizza dough
Instructions
Blend spinach, ricotta, mozzarellaolive oil, egg yolk, garlic powder, oregano, pepper flakes, and salt into a big bowl.

Put dough on lightly floured surface and divide into 4pcs.

Having a rolling pin or your fingers, flatten each piece into a 7 inch around on a sheet of parchment paper.

Spread ¼ of spinach filling evenly over half of each dough around, which makes sure to leave a 1 inch border around the border.

Brush the edges with the egg wash and fold the other half of the dough circle over egg mix, leaving the base ½ inch edge discovered.

Press edges of bread together and pinch fingers to seal.

Using a sharp knifecut on 5 steam vents at addition to calzones and brush tops with remaining egg wash.

Move calzones on parchment lined baking sheet and bake for 2mins, then brush with some remaining egg wash and sprinkle with grated parmesanthen bake for another 5mins.

Proceed to cable rack and let cool for five minutes before serving.