This dish is wonderful! My entire family loved it. I shifted the pasta and utilized Veggie Spaghetti. Honestly could not be better! Loved it!! That is my new favourite pasta!! I adored everything about it. It had been really simple to follow and create, absolutely yummy!! This recipe may easily feed people is great heated up the following moment.
Wonderful recipe, so yummy! I didn't actually get a picture before my loved ones devoured the entire thing! We've had plenty of pasta recently, so I served it on herbed mashed potatoes rather, but it was just fantastic. I doubled the recipe and we've barely anything left. My children (12, 8, and 5) and my spouse barely said a word during dinner time.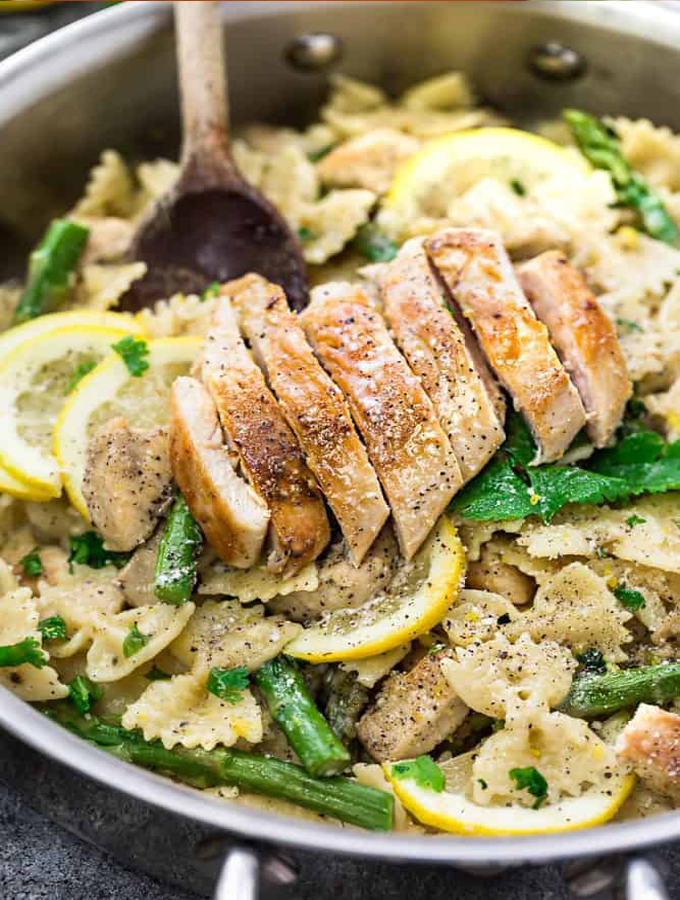 Lemon Asparagus Chicken Pasta
Ingredients
1

lb

linguine or spaghetti

1

tbsp

extra-virgin olive-oil

1

lb

boneless skinless chicken-breasts

2

tsp

Italian-seasoning

2

tbsp

butter

1

small

red-onion, chopped

1

lb

asparagus, stalks trimmed and cut into thirds or quartered if large

¾

c

heavy-cream

½

c

low-sodium chicken-broth

1

lemon-juice

3

cloves

garlic, minced

1

lemon, sliced into half moons

¾

c

shredded-mozzarella

½

c

freshly grated Parmesan, plus more for garnish

Freshly ground black-pepper

Kosher-salt
Instructions
In a big pot of salted boiling-water, cook pasta according to package directions until al dente. Drain & return to pot.

In a skillet over moderate heat, warm olive-oil. Add chicken & season with pepper, salt, and Italian-seasoning. Cook till golden & no longer pink, 8 mins each side. Transfer to a plate to allow remainder, then thinly slice.

To skillet, melt butter over moderate heat. Add red-onion & simmer and season with pepper and salt. Cook till tender 5 mins, then add heavy-cream, chicken-broth, lemon-juice & garlic and simmer for 5 mins.

Stir cheese & cook till melty, then add lemon pieces and cooked linguine.

Top with chopped chicken and garnish with additional Parmesan & parsley.